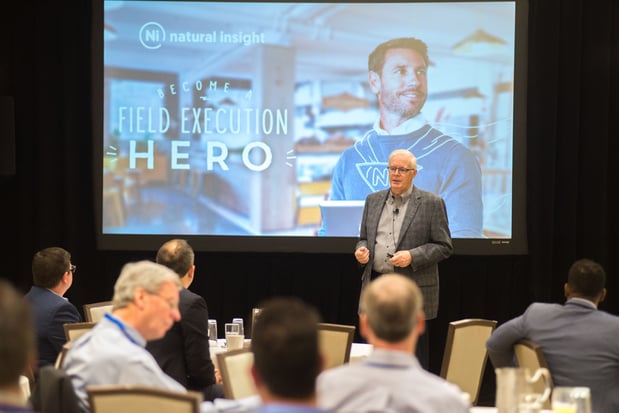 On April 10th 2017, more than 80 retail industry professionals gathered in Washington, D.C. for INSIGHT 2017, our annual user conference. As we continue to see large chains closing hundreds of stores, it's an interesting time to be talking about the future of retail.
Despite that trend, data still shows that 90% of Americans are doing the bulk of their shopping in actual brick-and-mortar locations—not online. So, how can brands stay in the game?
Power to the People
One of the key themes at INSIGHT was people: the people on the front lines, in retail stores, talking with customers, representing brands, and selling products. How do we make their jobs easier? How do we keep them informed and engaged?
Our CEO, Stefan Midford, kicked off the conference by introducing our new Natural Insight brand and marketing campaign, inspired by the people who show up, work hard, and get stuff done. Coined "Field Execution Heroes," these are the people who enhance the in-store experience and keep retail stores thriving.
Keynote speaker, David Katz, EVP, CMO of Randa Accessories, shared that the "number one thing customers want is a sales associate with deep product knowledge." He also told us about the importance of Human to Human (H2H) marketing – the idea that humans don't buy from companies, they buy from humans.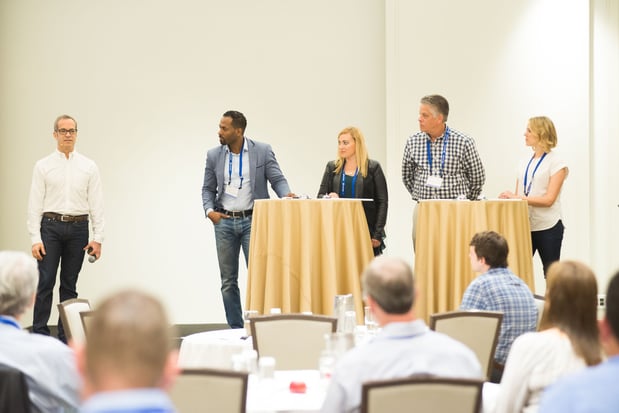 We also heard from Karen Mendoza, NMI Retail Operations Manager of Nintendo. Her team of 150 merchandisers across the United States are constantly asked to "do as Mario does: jump through hoops to get stuff done, all while wearing a smile." To prepare for an upcoming product launch, each team member was flown to Nintendo's headquarters for a hands-on training experience.
In a session about achieving field execution nirvana, Chris Herb, former Director of National Merchandising at LEGO Systems, explained that far too much time and money are invested in developing signage, interactive demos and events to not achieve 100% execution success. This success is ultimately in the hands of the field team.
Aaron Sims, Senior Director for Lindt & Sprüngli, co-led the session. He suggested communicating clear and concise objectives and scheduling regular, 10-15 minute check-ins. Don't allow technology to decrease due dates and timelines; an email with instructions the night before a big event just won't cut it.
Finding the Right People
We know that people are key to field execution, but how do we find the right people?
Cattie Dos Santos, HR Technology Manager for Match Marketing Group, and Megan Overton, Head of Product for Snagajob, led a panel about kicking your recruiting up a notch. Both companies are investing in making life easier for job seekers. This includes re-writing job descriptions, one-click mobile job applications, video technology, and texting to enhance the speed to connection.
Rick Sterrett, VP of Operations for Natural Insight, showed us Workforce Health—a new Natural Insight feature that pairs that right people with the right job. Based on a proprietary rating system—not just reviews—employers can find top performing workers and assemble their A-Teams.
The conference concluded with Shelly Connelly, Director of Petco Experience, and Andrew Baldwin, VP, In-Store Demonstration, for Blue Buffalo Co. The two companies work together to create an emotional connection with pet parents. Shelly explained that this is key to driving sales and loyalty at Petco.
Petco trains its employees to be experts so they can educate customers on what is best for their pets. These experts can answer questions about ingredients and nutrition. Blue Buffalo has 1,200 "Pet Detectives" conducting product demos in stores across the United States. In addition to giving rundowns on ingredients, the Pet Detectives are trained to engage customers on a personal level by asking questions about their pets, favorite activities, weekend plans, and other topics. Andrew shared that Pet Detectives aren't in it for the money; they just love meeting new people and learning about their pets.
Want an invite to INSIGHT 2018? Send us an email at marketing@naturalinsight.com or join our mailing list, and we'll keep you in the loop!
Caroline Lane is the Director of Marketing at Natural Insight. Prior to joining Natural Insight, Lane was a senior marketing manager with Aquicore, an energy management software system for real estate portfolios. Lane was one of the company's first ten employees hired and was responsible for building Aquicore's marketing strategy from the ground up. Lane also previously worked at Renault - Nissan where she helped the automobile manufacturer penetrate more than 14 Asian and African countries. She has a Masters of Science in Management from EMLYON, one of Europe's top ranking business schools located in France.