With nearly 70% of consumers expecting some kind of augmented reality (AR) when shopping, retailers have responded by adding informative, immersive and entertaining AR to the in-store shopping journey.
And retailers aren't just implementing AR strategies to appease consumers: 40 percent of consumers report that they would be willing to pay more for products supplemented with AR. That's why retailers are weaving AR into not only their in-store merchandising displays but also their efforts to pull customers to their doorstep.
AR Informs and Empowers Customers Who Want In-Store Shopping
The top reason customers shop in-store is to physically experience the product before buying. But studies suggest consumers expect such extensive information during their purchasing journey that many retailers can't keep up.
How can retailers attract more in-store customers with such high expectations? Carefully planned displays and a splash of AR. Many retailers leverage AR to empower consumers who long for the brick-and-mortar store but don't want to miss out on the fine details available through online research. American Apparel, for example, introduced an app that enables shoppers to scan items in stores and view product information, color and sizing options, customer reviews and more. Combining informed shopping with real-life product interaction helps consumers find the option best suited to their needs without forcing them onto the internet.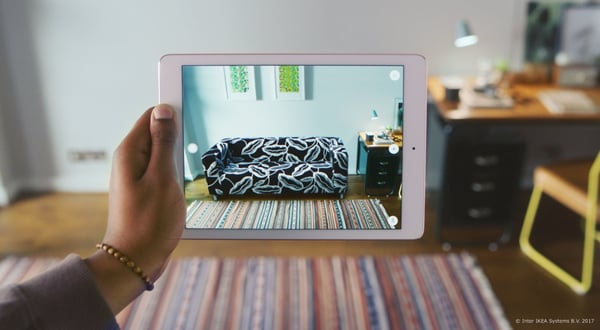 Copyright IKEA
In the same vein, Uniqlo's AR mirrors allow shoppers to try on items in different colors while in the dressing room. These empower shoppers with live product information while delivering a novel and exciting in-store experience.
The lesson here? Meet the customer halfway with the information they need to make informed in-store purchases. Even if you're not comfortable with trying out a new technology to make that happen, a well-executed display should include the most frequently requested information about a product. And, elegant execution should intuitively convey simple information like size, color, and quantity. Keep presentation top-of-mind when working product information into your retail merchandising – either provide discrete (but convenient) access to product details or integrate tasteful information panels into the overall display.
AR Rewards Shoppers While Promoting Your Shop
AR is a fun, new technology that customers can use to communicate their lifestyle – including how they spend their money! Incorporate social media into your AR strategies to create interesting, sharable content. When advertised and shared on social media, an engaging AR experience that rewards on-location shopping can draw the attention needed to earn new shoppers and loyal followers.
For example, stores and malls have begun investing in geo-filters that embellish Snapchat photos with store and location logos, face filters, or backgrounds – a shareable reward for in-store shopping that conveys the positive feelings of frequenting a beautiful store, location or event. Be sure to keep your storefront perfect and your displays on point to keep that magic alive – the only share you'll get with a sloppy façade is an ironic one.
Wow Factor
Consumers crave authentic connections when shopping, and store operators are eager to comply. Why? 70 percent of customers that had positive emotional shopping experiences would spend twice as much as non-connected customers.
Gucci capitalized on this with its recent Gucci Hallucination campaign, which features animated in-store displays and tickets that grant access to an AR experience as a reward for in-store purchases. The campaign is based on artist Ignasi Monreal's surreal artwork, drawing on the age-old pairing of luxury and art to pique shoppers' interest.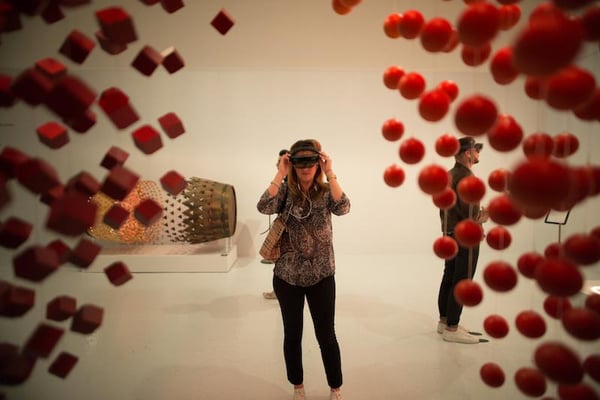 Copyright The Macallan
Conclusion
Although AR is fairly new to the retail scene, retailers are using it for more much more than its wow factor. AR can combine with flawless in-store execution and beautiful displays to inform, attract and connect with customers. However, whether you're trying out AR or implementing tried-and-true merchandising displays, robust retail execution software like Natural Insight enhances floor execution to drive more sales and cultivate a loyal following. Learn how Natural Insight is redefining retail in our infographic, New Rules for Success in Retail: How Experiential Marketing Fits into the Evolving Customer Experience.
Caroline Lane is the Director of Marketing at Natural Insight. Prior to joining Natural Insight, Lane was a senior marketing manager with Aquicore, an energy management software system for real estate portfolios. Lane was one of the company's first ten employees hired and was responsible for building Aquicore's marketing strategy from the ground up. Lane also previously worked at Renault - Nissan where she helped the automobile manufacturer penetrate more than 14 Asian and African countries. She has a Masters of Science in Management from EMLYON, one of Europe's top ranking business schools located in France.