The experiential marketing trend is exploding. Experiential retail strategies are evolving to become an essential tool for retailers to master, especially with the emphasis consumers place on memorable experiences as they shop. With that in mind, retailers must create unique experiences that integrate digital elements to engage those consumers. The rise in digital experiential marketing campaigns offers retailers an opportunity to capture consumer data better than ever before.
Here are some creative examples of ways retailers and brands can seamlessly integrate digital elements into their experiential retail campaigns.
1. Create social media-friendly experiential marketing campaigns
SnapChat Geofilters or an Instagram hashtag are a great way to start integrating digital into your experiential marketing campaigns. Encouraging shoppers to engage with and promote your brand through social media is a simple and popular tactic to increase excitement around your event or pop-up shop.
2. Digitize the in-store shopping experience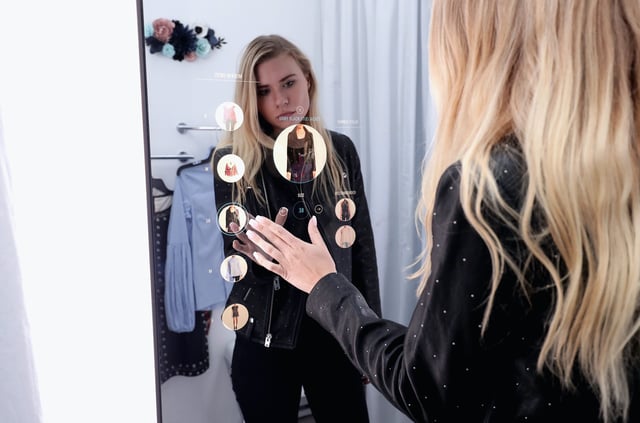 Photographer: Cindy Ord/Getty Images for Mastercard
The luxury department store Neiman Marcus has been making headlines in recent years by collaborating with different technology companies to completely transform the in-store experience. Incorporating retail technology like smart mirrors and self-checkout systems are another example of how retailers can integrate digital into their experiential events as well as an example of how the brick-and-mortar store is evolving in today's ever-changing retail landscape. For instance, Neiman Marcus added interactive mirrors in their pop-up shop fitting rooms that enable shoppers to browse other styles and request different sizes. Considering the current retail climate, making the in-store experience more efficient and enjoyable creates a unique benefit to in-store shopping—an advantage over online-only retailers.
3. Personalize the retail experience
In addition to instant checkout and smart mirrors, using emerging technology such as augmented reality can help reenergize and personalize the retail experience. For instance, J.C. Penney recently experimented with virtual reality to extend their two-day luxury pop-up holiday shop and reach a wider audience. In order to refresh their reputation, the struggling department store chain implemented the latest digital technologies to provide shoppers with an innovative experience. By introducing it in a fresh, new way, J. C. Penney was able to remind customers of what their company has to offer.
Execute Flawless Experiences with Robust Retail Merchandising Software
Retailers are finding more incentives than ever to create unique experiential marketing campaigns that incorporate digital elements. Integrating digital into experiential marketing campaigns can help retailers enhance the customer experience. They can reach a wide range of goals, from testing different markets to showcasing new products. A thoughtfully designed and immersive experience will foster brand awareness, drive foot traffic, and encourage customers to return to the brick-and-mortar location while simultaneously enabling them to collect and analyze foot traffic and consumer behaviors.
By implementing a robust retail merchandising and execution platform like Natural Insight, retailers can easily adapt to changing consumer needs. Natural Insight's retail workforce management solution provides insight into consumer trends, foot traffic, and in-store task management to help retailers execute flawless and engaging experiences.
Want to learn more about the benefits of experiential marketing? Download our infographic, New Rules for Success in Retail: How Experiential Marketing Fits into the Evolving Customer Experience now!
Caroline Lane is the Director of Marketing at Natural Insight. Prior to joining Natural Insight, Lane was a senior marketing manager with Aquicore, an energy management software system for real estate portfolios. Lane was one of the company's first ten employees hired and was responsible for building Aquicore's marketing strategy from the ground up. Lane also previously worked at Renault - Nissan where she helped the automobile manufacturer penetrate more than 14 Asian and African countries. She has a Masters of Science in Management from EMLYON, one of Europe's top ranking business schools located in France.