We'd hate to see your products spend their life stuck in bad real estate. So, buckle up! We're going on a journey to new sights, textures and designs to superpower your visual merchandising strategy for displays.
1. Use Textures and Visual Complexity to Awaken the Senses
A study by the International Journal of Design (IJD) found, as others have, visual complexity is essential to creating the arousal that triggers purchasing behavior. Try using this knowledge to create scintillating displays, but also as a criterion for the environments where they live.
While we assert that this applies to displays and windows, the IJD did not mince words on its opinion of floor layouts (emphasis added):
"…when a store environment consists of a single color with no decorative patterns and when environmental elements are arranged in a fixed line, visual complexity perceived by consumers is low. It must be noted, though, that an excessively monotonous environment could make consumers lose interest and feel bored. Considering this, stores need to attract consumers' attention by using decorative patterns or provide appropriate visual complexity by arranging design elements freely, thereby drawing an arousal response from consumers and encouraging them to experience excitement and to focus on the shopping environment." – IJD
Looking at the study, grid store layouts with straight lines of product displays were the stimulating, while complex patterns on surrounding walls, floors and display surfaces were successfully stimulating.
2. Tables and Bookshelves Need to Go! (Well, mostly.)
Suspension-based displays like Anthropologie's and others use depth, light and a lot of high-tensile wire to create floating, stark, and striking window displays.
A closer look, however, shows a lot of time and money went into these one-time window dressings and in-store displays. Visual merchandising strategies need to keep products popping, but be reproducible, affordable and achievable.
Try yarn. That's right! Yarn! A basket of yarn hanging or stretched from a metal grid can give any display a quick dose of color, suspension art, and the shapes and forms which intrigue the mind and set fire to the imagination.
Drape hanging yarn in cool colors to create weather effects and flowing organic backgrounds.
Fix two metal grids at right angles to create sweeping lines and smooth color gradients for satisfying aesthetics and effortless focal points.
Do you really want to use tables and shelves? Take a page from target's playbook and create exciting spaces that visitors can linger in. To promote their partnership with the Fixer Upper stars Chip and Joanna Gaines, Target created a brand new space in their stores and carefully arranged the displays to make visitors feel at home. From the color of the floor to the stores to the table to the giant house structure, everything is set so that shoppers can imagine the items in their own home. And maybe if they buy that vase and these plates, their homes will feel like a true fixer upper!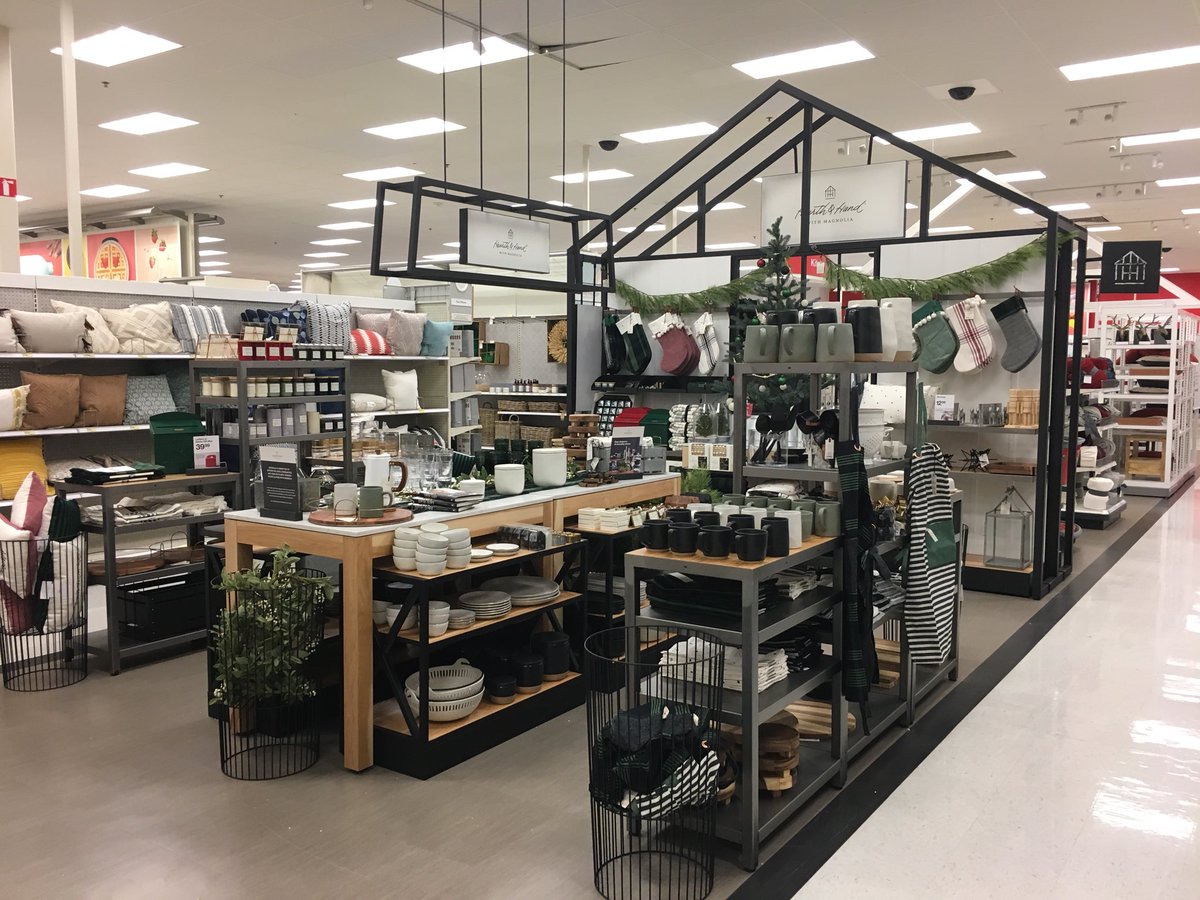 3. Use Visual Contrasts to Stand Out
Conduct regular research on the competitive real estate you share and the general area to see how each store arranges the products in the space. Then, try a style of packaging, package arrangement or display that is the distinct opposite of the general area.
Busy shelves with many brightly colored packages can mean that nothing stands out individually. While stimulating, it doesn't help your product, specifically.
Hit them with high contrast. Try a block of dark-toned packages with striking white text or block of white packaging with distinct and bright text that is simple and descriptive.
The visual background noise surrounding your simple and contrasting real estate creates a display within a display, dominating the area and making the competitor's brightly colored products into a background for yours.
4. Try Visual Metaphors for Engaging and Memorable Visual Merchandising
In Louis Vuitton's "Cherry on Top" handbag window display in Paris, mounds of whip cream overflow a golden cupcake liner with a tasteful red handbag at its peak. The design suggests the luxurious nature of the product and implies itself as a special treat for the owner – metaphorically speaking, it's not only a treat, but it's the ultimate self-indulgence.

Metaphors sell the idea or message, not only the product. A fantastic Chanel No. 5 display uses folds of giant golden bow ribbon to recreate the shape of its iconic bottle. Dark lighting once again pulls attention not just to the product, but the idea they want to convey: in this case, that the perfume makes a perfect gift for the holiday season. No distracting words required. Minimal work to execute – that's a win!


To create your own visual metaphors, foam sculptures are cheap and easily produced or sourced – surfacing and textures are easily done with a plastic or fabric wrap, or even paint. Foam can also give your execution teams leeway to shape structures that convey the metaphor regardless of the size allowed. Be sure to send teams build plans to ensure accuracy, and visually verify their field execution.
Visual metaphors imply that the product is the metaphorical object. Mannequins are a great way to transmit these ideas. Scenes where the product replaces what the product stands for are easy to create. How might you present your product as a prize for being a champion? (A trophy.) Or as a token of love? (A bouquet.) How about a solution to their problems? (A lightbulb above the head.) Swap out your product for the iconic object in these scenarios for a quick, impactful metaphor.
Whether you're scoping out store décor, assessing the competition, draping a scene with delicate yarn or creating visual metaphors on a display with formed materials, execution will be key to the success of your visual merchandising efforts.

Don't leave your products stranded on an island of bad real estate.

Natural Insight provides visual verification, competitive reporting, accountability and transparency that visual merchandising strategies require. Want more help? Get out our guide for organizing your next product execution in the The Ultimate Retail Execution Checklist.