Omnichannel retailing works. According to a recent Harvard Business Review study, 73 percent of shoppers used multiple channels during their shopping journey. Those customers also logged more repeat shopping trips to the same retailer and were more likely to recommend the brand than those who merely used a single channel.
With these insights, retailers are increasingly looking to an omnichannel strategy to cultivate better relationships with their customers. To be successful, brands today need to provide a seamless shopping experience in their brick-and-mortar stores as well as on a variety of digital channels to differentiate themselves from competitors.
These four brands are creating seamless omnichannel experiences with significant returns.
4 Retail Companies Providing a First-Class Omnichannel Experience
1 - Godiva



The leading producer and retailer of fine Belgian chocolates, Godiva, has a longstanding reputation as a luxury brand. Their in-store customers are exposed to first-class customer service and enticing displays, and the brand has recently been able to replicate that high-quality in-store experience on their digital channels.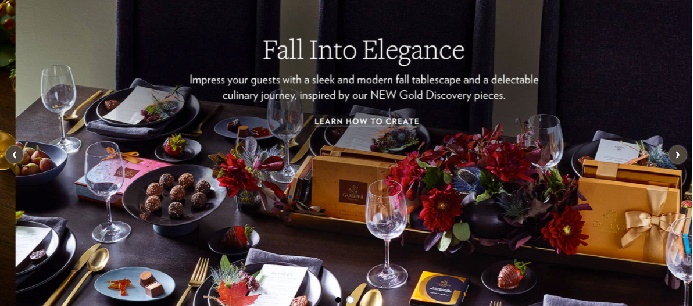 In spring 2016, the chocolatier saw an increase in purchasing speed by 300 percent with their rich, shoppable content. Today, they continue to leverage their recent site redesign and the implementation of a unified strategy to support their ecommerce business. Godiva turned their focus to the customer by personalizing the site search experience, bringing the luxury experience online, which has led to sweet results for the company.
The company is offering customers a consistent experience across all touchpoints. They've blended the in-store experience with online channels through social media and in-store pickup offerings. They even launched mobile pop-up shops to attract customers with their delectable holiday offerings on the streets of New York City (and I don't know about you, but the picture below makes me wish it was winter already, and holiday shopping was here).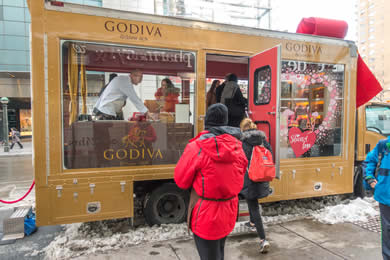 2 - Best Buy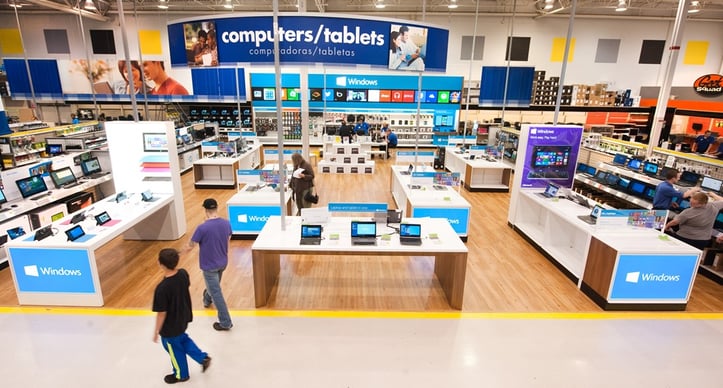 Best Buy is navigating the omnichannel experience much better than most retailers today. Their omnichannel retail marketing initiatives focus on promoting and enhancing its physical stores (which many of its major competitors don't have in large numbers—ahem, Amazon) as well as its ecommerce and mobile capabilities.
The retailer's omnichannel strategy comprises brick-and-mortar showrooms, price matching, two-day delivery, in-store pickup offerings (that they advertise on the radio) and a user-friendly mobile application. Best Buy has most recently enabled their mobile shoppers to easily filter product searches to find what is available for same-day pickup on their mobile app. This supports their customers' need for instant gratification and drives impulse purchases once they enter the store.
3 - REI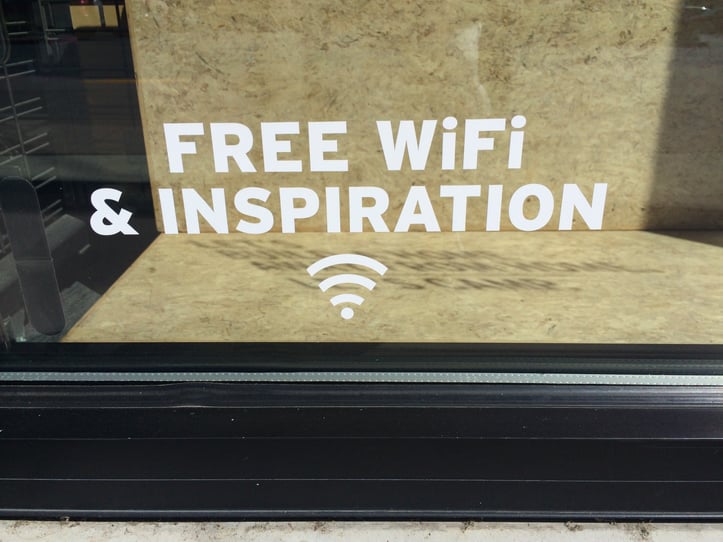 REI is another retailer that is prioritizing its customers' satisfaction by offering consistent and valuable information on all channels. Similar to Best Buy, REI specifically views mobile as a great marketing opportunity since 75 percent of their customers visit the website or mobile app to research items before making an in-store purchase. In fact, according to Forrester, 72 percent of smartphone users use their mobile phones while in-store to check prices, research product information and find specific items.
The outdoor equipment and apparel brand even equips their in-store sales associates with mobile devices to be of greater service to customers and provides free Wi-Fi for customers to access information as they shop, allowing them to become more immersed in the brand.
4 - Target

Target is taking great strides to improve their in-store and omnichannel experience by implementing improved app capabilities, better inventory control and a more compelling in-store experience. The retail giant is steadily connecting digital and physical channels to create unique experiences and engage with customers better. In response to customers increased online spending, particularly on mobile devices, Target has further plans to supply sales associates with mobile devices in time for the holiday season to help place online orders for customers who can't find the item they're looking for in the store. They are also refining their "buy online, pickup in-store" services.
Elevate In-store Sales by Creating a Unified User Experience
These brands have their omnichannel strategy down pat. With a deep understanding of their customer's behaviors and trends, these brands are bringing online, offline and mobile shopping together to provide a unique, seamless experience to consumers.
A robust retail execution and workforce management solution like Natural Insight offers its customers unprecedented visibility into their stores—from consumer trends to in-store task management—and helps retailers and brands provide a seamless omnichannel experience.
To learn more about the benefits of an omnichannel strategy, download our infographic New Rules for Success in Retail: How Experiential Marketing Fits into the Evolving Customer Experience today!
Caroline Lane is the Director of Marketing at Natural Insight. Prior to joining Natural Insight, Lane was a senior marketing manager with Aquicore, an energy management software system for real estate portfolios. Lane was one of the company's first ten employees hired and was responsible for building Aquicore's marketing strategy from the ground up. Lane also previously worked at Renault - Nissan where she helped the automobile manufacturer penetrate more than 14 Asian and African countries. She has a Masters of Science in Management from EMLYON, one of Europe's top ranking business schools located in France.