As the explosion of experiential merchandising demonstrates, customers love new and exciting things that spark interest and engagement. Stores with stagnant merchandising techniques are likely to bore shoppers, especially when compared to competitors that frequently switch up their retail merchandising strategies.
New retail shelving techniques are excellent for spicing up retail merchandising. When developing with new shelving ideas, product companies should ensure their merchandising upholds their brand's image to maintain a cohesive brand experience for consumers. Why? Consistent branding increases revenue by an average of 23 percent.
So, how can companies keep their retail shelving fresh while still staying true to their brand identity? First, always keep brand values and overarching goals in mind when considering new strategies. Try infusing your brand identity into these retail shelving ideas to keep consumers interested and spotlight your brand.
Make Retail Shelving Memorable
As it turns out, determining something's memorability isn't a guessing game. MIT researchers developed an equation that predicts how likely people are to recall visuals. We'll spare you the Good Will Hunting-esque formulas and cut to the chase: people are more likely to remember imagery they didn't expect.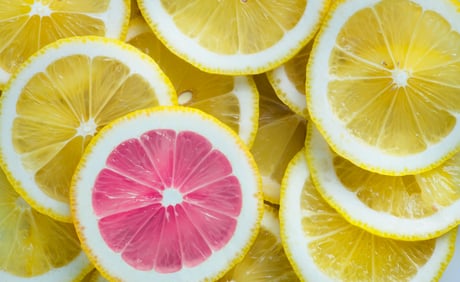 Brands looking to stay top of mind should try to work the unexpected into their merchandising strategies.
Not sure where to begin? Start by taking a look at competitive stores. Note common shelving techniques, including: color, materials, product placement, themes and other factors.
Next step? Break those molds.
Video game displays, for example, are usually bright and color-saturated. A video game brand looking to stand out, therefore, could opt for a black-and-white merchandising color scheme with strategic pops of color on shelves.
Found objects are another great way to surprise customers with memorable merchandising. Capterra suggests using old books, glassware and other items that don't typically accompany your product to supplement retail shelving displays in an unexpected way.
To find the perfect medium between unexpected and on-brand, brainstorm your brand's values and mission to extrapolate trends that represent your company and products in a fresh way.
Pro tip: There are other ways to increase memorability as well. Emotion-driven content and celebrity association both help consumers remember brands.
Include Art and Creative Visuals in Display Setups
As experiential marketing becomes the newest consumer-loved trend, many brands are combining their visual merchandising with trending art and creative imagery.
To offer consumers a more connected, cultural experience while shopping in stores, product companies have been known to partner with artists to create unique imagery that speaks to the brand while creating eye-catching, memorable displays.
Andrew Salgado, for example, painted expressive portraits for Harvey Nichols retail displays to deliver colorful, thought-provoking experiences shoppers wouldn't soon forget.
Can't afford to commission an artist? Take a leaf out of Anthroplogie's book. Anthropologie retail displays are designed and executed in-house. The process is time-consuming and requires a lot of creative juice to stay under tight budgets, but the result is unforgettable. Anthropologie is well-known for its art-inspired retail shelving, from animalistic accents to shelves covered in greenery. Consumers shop at Anthropologie for the full, art-inspired experience, and Anthropologie embraces its craft-based designs as an essential part of its brand.
Supplement Experiences with Technology
Another way to create excellent experiences for customers? Infuse merchandising with technology.
Brands are popularizing technology-supported shopping with retail apps, smart mirrors, virtual demos and other tech novelties. American Apparel, for example, offers an augmented reality (AR) merchandising app that allows customers to scan barcodes for products right on the shelves, view more item options and share results with friends. Similarly, Sephora uses smart mirrors to let customers virtually sample products.
Techniques like these create a turn shopping errands into exciting experiences that encourages customers to make purchases and come back for more.
What's more, retail shelving displays that use supplementary technology don't need as much signage, allowing for a cleaner, minimalistic aesthetic. Consider working product details into a retail app to clear up shelving space, leaving products and essential signage as focal points.
Additionally, smart mirrors and retail apps give customers access to a wider range of products, even when they're not in-stock. This means brands can keep inventory lower and shelves cleaner while still promoting all products. Brands that opt for this approach should be sure to offer free shipping on items that aren't available in-store.
Capitalize on Shopper Preferences with Product Placement
Sometimes, great display setups aren't enough. Companies are now thinking about items in relation to one another and the experience they create throughout the store.
Though Anthropologie's image is generally eclectic and one-of-a-kind, its displays are surprisingly symmetrical. Employees are required to place all shelves and displays at 35 – 40-degree angles from one another to subliminally build a foundation of organization and symmetry around its eccentric displays.
Further, Entrepreneur tapped into the consumer psyche to learn what aesthetics they like and what drives them away.
They found surprisingly specific answers.
It turns out that most customers are righty-shoppers. That is, when most people walk into a store, they look left, then turn right and follow a horseshoe-pattern around the store. Entrepreneur suggests brands capitalize on this by positioning their most eye-catching display to the right of the entrance to draw customers in.
Don't have a say on where in the store your display goes? Instead, focus on product placement and spacing when designing retail shelving strategies.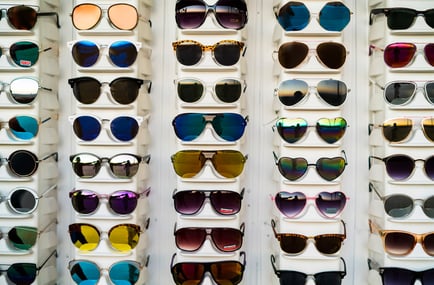 Entrepreneur also found that customers fail to notice an average of 20 percent of a store's merchandise. To prevent your brand's products from that mental disappearing act, break them up with empty shelving space. When executed correctly, shelves won't look picked over or empty; they'll simply help guide the eye through the shelf by offering visual breaks.
Manage Displays with Retail Merchandising Software
While keeping retail shelving fresh is essential to drawing in and retaining customers, poor retail execution can negate even the best strategies. Robust retail merchandising software like Natural Insight's empowers retail execution, simplifies shift delegation, streamlines workforce management and so much more.
Start boosting retail display quality today with our retail execution checklist.
Caroline Lane is the Director of Marketing at Natural Insight. Prior to joining Natural Insight, Lane was a senior marketing manager with Aquicore, an energy management software system for real estate portfolios. Lane was one of the company's first ten employees hired and was responsible for building Aquicore's marketing strategy from the ground up. Lane also previously worked at Renault - Nissan where she helped the automobile manufacturer penetrate more than 14 Asian and African countries. She has a Masters of Science in Management from EMLYON, one of Europe's top ranking business schools located in France.