From staffing decisions to in-store merchandising strategies, retail managers have a lot on their plate. Trying to do it all without the help of big data just slows the journey to gains in productivity and sales. Incorporating data into your retail strategies will improve their efficacy and set the stage for smoother, more profitable retail management.
Workforce Management Tools Eliminate Staffing Snags
Staffing decisions can often feel ambiguous, and misguided task assignments or shift placements can be costly. Workforce analytics help managers make the right decision for each employee to create a well-oiled retail workflow. For example, retail workforce management software like Natural Insight can report and log employee performance. These insights can inform managers on promotion or re-staffing decisions and help them choose the right task for each employee – those who shine in customer-facing positions may not perform as well when assigned a warehouse stocking shift, and vice versa. Workforce health software helps managers play to their employees' strengths.
In addition, a designated workforce scheduling solution reduces the headache of working with generic spreadsheets while keeping shifts fully staffed with the right employees.
Audience Data Informs Tip-Top In-Store Merchandising Strategies
If you're not sourcing big data to learn about your target audiences, you're missing a huge opportunity. To boost in-store sales retailers need to find out what makes their target market tick. Are they impulse purchasers who love new gadgets? If so, position some of your coolest low-priced items close to the register to encourage last-minute purchases. By contrast, thoughtful, research-loving shoppers will appreciate informative signage and knowledgeable, enthusiastic staff. Shaping experience based off of customer information creates a targeted experience that converts first-time shoppers into a loyal repeat customer.
Task Execution Insights Boost Retail Compliance and Employee Performance
Retail execution software provides retail merchandising task verification, ensuring both accuracy and timeliness. Natural Insight, for example, enables photo verification for each project. That verification allows managers to enforce quality control quickly and remotely; employees take a picture of their work after every shift and upload it to the platform. This process also mitigates time theft and fraud. If employees are having trouble executing displays correctly, planograms are a great way to define setup requirements.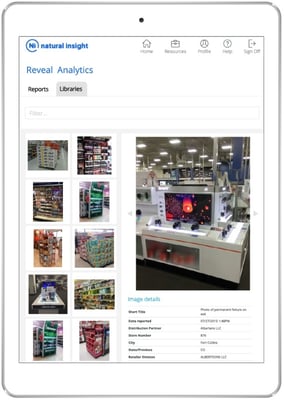 Merging retail execution data with employee performance logs improves performance rating reliability and helps managers make better staffing decisions; someone who executes five-star work every shift is likely an employee their manager can trust with important and complex tasks. Regular performance ratings help provide more accurate data on employee capabilities and workforce health over time.
Engagement Insights Promote Continued Growth
It isn't enough to implement great ideas and hope they perform well on their own. Successful retailers consistently monitor their retail efforts – often through a retail execution and analytics platform – to determine what works, identify what needs tweaking and inspire future retail ideas. Look at banner sales days to identify patterns of success in your retail efforts. For example, try tracking sales by product location – if merchandise on one of your store fixtures does particularly well, consider placing one of your higher-priced items there to boost daily numbers. Similarly, sales that correlate with season, buyer information and promotions can help invigorate stale merchandising strategies and inform new ones.
Collect and Capitalize on Retail Analytics with Natural Insight
There's no better time build the power of data into your retail strategy. Natural Insight's robust retail execution and reporting software drives strategies that boost sales and create loyal customers.
Want to check-in on your current retail efforts? Download our retail compliance checklist to see how your teams' execution stacks up!
Caroline Lane is the Director of Marketing at Natural Insight. Prior to joining Natural Insight, Lane was a senior marketing manager with Aquicore, an energy management software system for real estate portfolios. Lane was one of the company's first ten employees hired and was responsible for building Aquicore's marketing strategy from the ground up. Lane also previously worked at Renault - Nissan where she helped the automobile manufacturer penetrate more than 14 Asian and African countries. She has a Masters of Science in Management from EMLYON, one of Europe's top ranking business schools located in France.