Retail experiences keep customers coming into stores despite online shopping's accessibility. In fact, the experiential marketing trend has significantly boosted retail success: there are currently more stores opening than closing. As consumers prepare for warmer weather, infuse your experiential marketing campaign with something they already love: summer.
Promote Summer-Specific Products
Successful experiential marketing campaigns promote a specific product, offer or message rather than focusing on a general brand or store. When brainstorming ideas, let the season guide you. Sprite's 2015 summer campaign, for example, featured 100 outdoor summer activities on their cans to encourage children to get outside.
Another trick? Team up with another business to create a summer product or event that appeals to both of your audiences, like Starbucks did for their exclusive Lilly Pulitzer S'well water bottle collection. Aside from effectively targeting both Lilly Pulitzer fans and Starbucks drinkers, this campaign hit the nail on the head for another reason – the product was "exclusive" and "limited-time." These buzzwords create a sense of urgency in shoppers, which is a highly effective purchase motivator.
Take to the Outdoors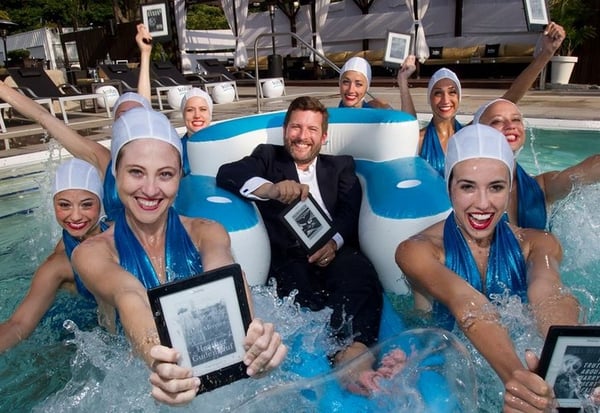 Photo Credit: KUBO
An event that asks customers to go inside on a beautiful day is a roadmap to disappointment. If your business doesn't have outdoor space, consider partnering with another business that does, or hosting your event at a nearby park or outdoor venue.
If the product or message you're promoting is summer-themed, use it to inspire your outdoor event. If your product isn't seasonal, get creative to find ways to bring your event outside. For example, Kobo promoted their new waterproof e-reader by hosting a pool party and encouraging attendees to use the readers in the water.
Market to Kids and Families
To kids, summer means one thing: no school! Kids will be looking for things to do, and parents will be looking for things to keep them occupied.
Bring on a fun, interactive or educational event that kids will be begging to attend and parents will be excited to bring them to. For example, Disney got kids excited to learn about personal health with their interactive Doc McStuffins exhibit at the Children's Museum of Indianapolis.
If your product isn't geared towards kids, shoot for family-friendly events. Parents don't want to find a babysitter to attend your event; instead, create an experience the whole family can enjoy. For example, the Google Home Mini isn't a product that typically draws kids' attention; the pop-up donut shop Google created to promote the product, however, appeals to all age groups.
Socialize Campaigns
Capitalize on people's desire to share summer outing experiences by creating photo-worthy spaces. Pantone nailed this concept with their experiential cafés, which feature brightly-colored foods, drinks and even décor labeled with corresponding Pantone colors. Bright, sunny spaces are sure to entice attendees to snap and share photos – just check out all the love Pantone Café's getting on Instagram!
Additionally, make your campaign recognizable and sharable on social media with a campaign-specific hashtag. Advertise the hashtag at events and on your brand's social pages.
The best brand hashtag of 2014 was Red Bull's #PutACanOnIt campaign, which encouraged people to post forced-perspective pictures of Red Bull cans (like the classic Eiffel-Tower-in-tourist's-palm snapshot, only with Red Bull cans).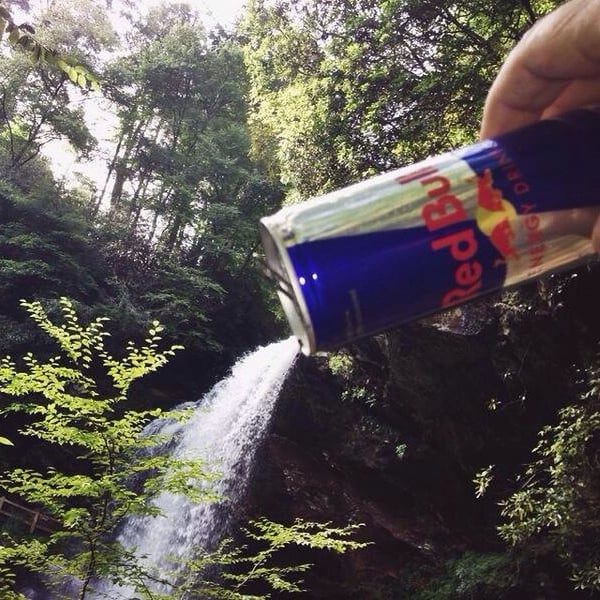 Photo Credit: Mark Snyder/Catherine Gregory
Why did this campaign work so well? It gave users a specific prompt for how to feature the brand in photos, and people enjoyed getting creative with it. In addition, user-driven campaigns convey authenticity and relatability at a low cost to the brand.
Watch your campaign take off by incentivizing social posts that tag your business, use its hashtag or feature your brand in a certain way. Samsung, for instance, challenged people to jump into 46-degree water and take an underwater selfie to promote their new waterproof phone. Anyone who completed the challenge got a free Galaxy S5. Challenge winners weren't the only ones who loved the campaign – the video recap received over 2 million views.
Make It Charitable
Studies show that consumers value a product more when a portion of its profits go to charity. Consider incorporating a charitable cause into your summer campaign. Rita's Italian Ice, for example, supports Alex's Lemonade Stand Foundation by selling paper lemons for customers to decorate. They then hang the lemons in stores, and when it's all over, Rita's will donate the profits to the foundation. Similarly, Rodan & Fields created "Go Naked Day" and donated $1 to BuildOn for each no-makeup selfie someone posted with the hashtag, #RFGoNaked.
Create a Brand Experience with Retail Execution Software
A great idea needs implementation support to become a great campaign. Robust retail execution software like Natural Insight helps retailers with field management during events and reports on results to inform future campaigns.
To learn more about how to drive growth and sales with experiential marketing, download our infographic, New Rules for Success in Retail: How Experiential Marketing Fits into the Evolving Customer Experience.
Caroline Lane is the Director of Marketing at Natural Insight. Prior to joining Natural Insight, Lane was a senior marketing manager with Aquicore, an energy management software system for real estate portfolios. Lane was one of the company's first ten employees hired and was responsible for building Aquicore's marketing strategy from the ground up. Lane also previously worked at Renault - Nissan where she helped the automobile manufacturer penetrate more than 14 Asian and African countries. She has a Masters of Science in Management from EMLYON, one of Europe's top ranking business schools located in France.