After years of struggling to understand and accommodate working millennials, many brands and retailers feel they've finally nailed the perfect combination of employee empowerment, digital resources and schedule flexibility.
Well, hold onto your avocado toast and Kanye West references, because Generation Z is entering the workforce, and they're not just new-and-improved versions of millennial workers.
Meet Generation Z
After watching their parents struggle through the Great Recession of 2008 and millennials set unreasonably lofty ideals, Gen Z-ers are more pragmatic and future-conscious than previous generations. As the New York Times observes, they are not unlike their Silent Generation predecessors, who were young witnesses to the Great Depression.
However, there's one glaring difference between the two generations: technology. Generation Z is the first truly tech-native generation; some members grew up learning to use touchscreens as they learned to walk. If you thought millennials were tech savvy… brace yourselves.
What does all this mean for brands and retailers? First, retail technology is their best friend as they welcome Generation Z-ers into the workforce. Let's take a look at some of the generation's key work values and how retail technology can help them grow and perform as retail employees.
Competition
While millennials and Gen Z-ers are both great collaborators, Generation Z workers are generally more competitive than millennials and prefer managers to judge them based on individual performance rather than on team-driven efforts.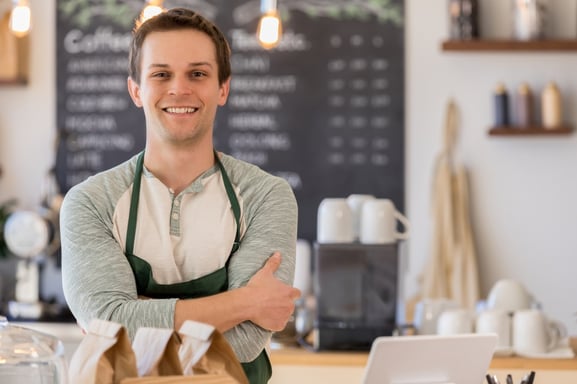 Retail Technology Strategy:
Use workforce management software to track employee performance and share ratings with workers to reward them and help them improve.
Staff scoring systems can form the basis for friendly competition. Since Generation Z workers prefer to be assessed and rewarded as individuals, an Employee of the Month program based on these ratings is a great way to incentivize your youngest staff.
Independence
Gen Z workers place greater importance on independence than do millennials. In the workplace, this means less micromanagement and more employee empowerment.
Retail Technology Strategy:
Mobile workforce management will be a Generation Z employee favorite, as it ensures they complete work correctly without feeling stifled by an ever-present manager. GPS-enabled check-ins and check-outs and photo verification of task completion transparently keep employees working within set guidelines, and young employees feel empowered by working independently.
Multi-Tasking
As the first truly tech-native generation, it doesn't take long for Gen Z-ers to get the hang of new technology. They're so used to swiping, typing and scrolling that juggling several tasks, both real-world and digital, comes naturally to them. Don't be surprised to see a Gen Z-er switch to their phone every few minutes while completing a task – and complete both items faster than it would take someone else to finish either one. Have we mentioned their killer work ethic?
Retail Technology Strategy:
Fortunately for employers, Generation Z workers won't need much field management software training, and they'll feel more comfortable navigating a mobile merchandising app than a planogram or instruction manual. Using an app to direct merchandising and task management will help Gen Z-ers thrive and enable the multi-tasking environment they crave.
Tip: Task Gen Z-ers to check merchandise placement and supplies intermittently while completing other tasks. Re-organizing or marking low-stock items as they go about their work will feel natural, get housekeeping items completed faster and keep stores looking their best.
Face-to-Face Communication
Contrary to millennials' tendency to shy away from real-life interaction, many Generations Z-ers prefer face-to-face conversation. (But don't get us wrong – this won't affect their technology and social media prowess; they use about five social channels a day).
Retail Technology Strategy:
Generation Z workers have the potential to be great brand ambassadors. Managers may find some of their youngest employees are the best at engaging customers and answering their questions on the spot. Paired with their ability to seamlessly switch to a retail execution app when needed, Gen Z makes for stellar and well-rounded field reps.
Market to Generation Z's Strengths with Retail Technology
Though we still have much to learn about workforce-aged Generation Z-ers, one thing is certain: they know technology like the back of their hand. Retailers and brands can appeal to the youngest generation of workers with field execution software that streamlines processes for managers and employees.
And the people of Generation Z aren't just employees; they're now becoming significant consumers, and they love experiential retail. To learn how to draw young shoppers to your store with experiential retail, download our experiential marketing infographic.
Caroline Lane is the Director of Marketing at Natural Insight. Prior to joining Natural Insight, Lane was a senior marketing manager with Aquicore, an energy management software system for real estate portfolios. Lane was one of the company's first ten employees hired and was responsible for building Aquicore's marketing strategy from the ground up. Lane also previously worked at Renault - Nissan where she helped the automobile manufacturer penetrate more than 14 Asian and African countries. She has a Masters of Science in Management from EMLYON, one of Europe's top ranking business schools located in France.