Deloitte's recent assessment of consumer product trends matter-of-factly throws out some harrowing thoughts for product companies:
Even those companies with the best return on assets (ROA) fell from an ROA of 9.2% to 8.1% in the 30 years that were measured for their writeup.
Median profitability ROA product companies dropped from 5.8% ROA to a slender 3.7%.
Those struggling in the bottom quartile for ROA dropped from 1.9% ROA to a blood-chilling -5.6% ROA.
While the article may be startling in identifying the negative trend in return on assets over the last 30 years, it does make a strong case for staying as competitive as possible.
Product companies invest mountains of time and energy negotiating with retailers to get your product in stores. But, once the deal is done, the job isn't over. Now you'll need to go back and make sure retailers are honoring their agreements and merchandisers are executing, ensuring that your product gets the attention it deserves. Enter the retail audit.
From the retailer to merchandizer, here's how a well-rounded retail audit keeps displays, product accessibility and promotional materials where customers need them.



Audit Retail Floor Layout Choices
Ever wondered why your hottest items aren't flying off retailer shelves? Well, it could just be that the retailer's floor plan needs some tweaking.
There are a plethora of options and thoughts behind floor plan design, but a few principles can help you and your retailers move more product.
The first principle is to ensure customers have the space they need to flow around the store and find what they need – with hints!
Audit Retail Floor Layout Compliance
Ever wondered why your hottest items aren't flying off retailer shelves? Well, it could just be that the retailer's floor plan is falling off. The first principle is to ensure customers have the space they need to flow around the store and find what they need – with hints! Make sure these compliance and layout issues don't crop up once your product is in place.
Congested Aisles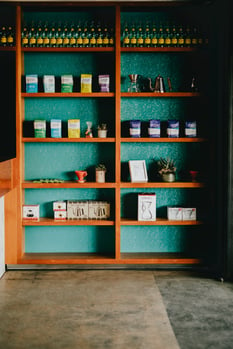 Ensure your high-traffic retailers stick to wide aisles and straight-shot designs. Grocery stores are a great example of this design. We tend to talk a lot about guiding customers through and around the store, but a single orientation of aisles gets them to the popular items – in the back or side of the stores – giving shoppers a sense of achievement when they find what they need, but also leaving them with lots of store to pass through. You might have a good understanding of how most of the stores in a chain are organized, but it is always a good idea to get specifics during an audit. For example: Ask questions about foot-traffic and compare with the time of day. Have your audit rep measure the aisle.
Uncontrolled Flow in the Store
Secondly, we recommend getting products noticed with speed bumps in those long, uninterrupted aisles. However, those speed bumps that are poorly maintained will show the effects of high-volume traffic:
Shoppers using speed bump displays as cup holders, shelves, etc.
Shoppers dumping garbage or unwanted items onto speed bump displays.
Shoppers treating speed bump displays as trial stations.
While speed bumps like displays and product information are useful stopping points for shelved products, ensuring these high-visibility spots are managed well is critical to your audit. It doesn't take long for a speed bump to start looking like a bargain bin – another reason that visual retail verification is critical.
Pro-tip: If your display is a mess, you might want to automatically create a re-visit for your rep so you can see if it is exceptional or if this is a trend.
Keeping the buying vibe
Also, despite the urge to cram stores with product, your retailers need to leave those aisles as wide as possible. Nobody likes being jostled while they concentrate. Many of us here will simply avoid aisles that look clogged with people.
Stagnation in the Decompression Zone
Our last tip on layout? Don't get pushed into the space near the door.
If you agree to place your product near the entrance of the store (that can be great for brand recognition!), make sure it is not too close to the space in door-adjacent area. These spaces should be kept free of items are they are decompression zones. Decompression zones are a place where customers assess and adjust to the store environment. If you end up in this area, your products will be overlooked as customers adjust to indoor lighting, take in the lay of the land and try to find their goal purchase – and they don't stop moving while they take everything in. If your display is 3 steps from the door, you will miss out on opportunities for those customers who don't look at individual products until they are 10 steps inside. Make sure your products aren't crowded into these areas and be sure that this arrangement is enforced.
An audit for all of these layout items breaks down to 3 simple questions to answer during a live audit:
Do customers notice the product?
Can they easily flow to the product?
Do they pass by the product too quickly?
Pro Tip: Knowing your shopper really matters. If your market is for older generations, consider stores that don't disrupt their layouts as often. For those with limited mobility, a long trek to find constantly moving items is discouraging (and annoying) and can hurt product and brand loyalty.
Audit Retailers for Merchandising, Promotion and Display Disasters
Displays can go from making your product appealing and visible to invisible – or worse. An effective audit of each retailer's merchandising execution can put your product back on the map.

Start by making sure the cardinal rule of merchandising hasn't been ignored: Keep displays perfect! Regularly check up on new stores and pay special attention to stores who have failed audits in the past. Perfection, however, is certain when many little details come together.

Here are some signs that execution is less than stellar:
Planogram not followed
Lighting and cleanliness inadequate
Displays and signage improperly set up
Missing items from displays or shelving area
Incorrect prices
Product location not as promised
Incorrect products mixed into area
Incorrect signage and promotion placement
Nearby products not as reported
Missing promotional signage or prices
Overstuffed stores
Too many faces? Some stores are dialing back how many package faces are front-and-center on the shelves throughout the store. As in all things display, too much to look at means problems. Take a note from Bed Bath and Beyond and ensure your items are curated, rather than bursting from a wall of product noise.
Take Control with Retail Audit Tools

These merchandising mistakes can all be minimized or avoided entirely with thorough retail audits conducted on a regular basis. Better still, improve that reporting with tools that make it simple and efficient. Natural Insight provides the reporting, visual verification, dashboards and people management that makes retail and merchandising audits a breeze. Check out a demo to see for yourself.
Need more help? Get out our guide for organizing your next product execution: The Ultimate Retail Execution Checklist.
Caroline Lane is the Director of Marketing at Natural Insight. Prior to joining Natural Insight, Lane was a senior marketing manager with Aquicore, an energy management software system for real estate portfolios. Lane was one of the company's first ten employees hired and was responsible for building Aquicore's marketing strategy from the ground up. Lane also previously worked at Renault - Nissan where she helped the automobile manufacturer penetrate more than 14 Asian and African countries. She has a Masters of Science in Management from EMLYON, one of Europe's top ranking business schools located in France.