While consumers appreciate the convenience of online shopping, the physical store remains an essential channel for acquiring new customers for brands. Numerous studies have shown that while consumers still want to shop in brick-and-mortar stores, their expectations have significantly changed. Shoppers today want to engage with and experience products—and they want to be entertained. In fact, 65 percent of brands that utilize experiential marketing campaigns say that it positively correlates with sales.
In this transforming retail landscape, successful retailers know that stores are more than just places where transactions are made. Stores must offer something consumers can't get online—and an obvious answer is to create unique, real-life experiences for people to engage with products, or what we like to call "experiential marketing."
Here, you'll find four of the coolest uses of experiential marketing campaigns that can be applied to retail operations of any kind.
Drive Sales with an Experiential Retail Strategy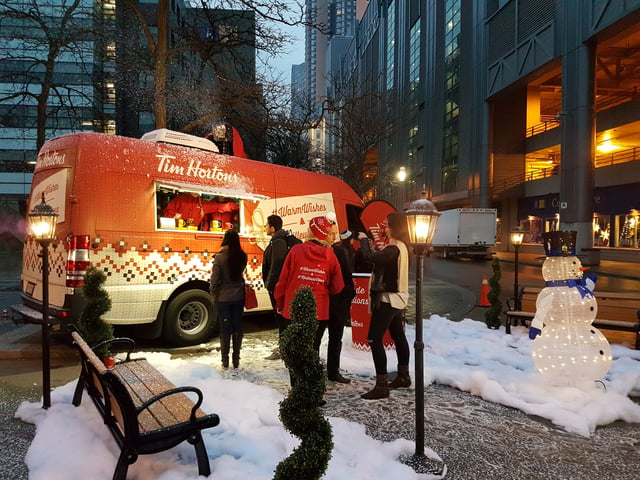 Rhoddy Marketing Group Generates Buzz for Tim Horton's
One of Canada's fasted growing marketing agencies, Rhoddy Marketing Group holds over 3,000 unique events per year for their clients—from interactive events at NHL hockey games to smaller events, such as town fairs and community center openings. Rhoddy also utilizes pop-up store marketing campaigns to help clients expand their brand and engage new customers. For their client, Tim Horton's, the Canadian-based coffee and baked goods chain, Rhoddy helped create a "secret" pop-up café that garnered a ton of attention from social media and local news outlets. Check out the video here!
Godiva Engages New Customers with Pop-up Store Experiences
As brands reconsider the purpose of the physical store, pop-up store marketing and temporary experiential retail spaces are becoming increasingly appealing as a tool for to expand and engage retail audiences. So, it's no surprise that music festivals are an attractive place for brands to find new customers. The premier maker and retailer of fine Belgian chocolates, Godiva, has experimented with pop-up shops several times. Their mobile pop-up shops have been seen at music festivals across the country, helping the company increase brand visibility and stay top-of-mind with young consumers.
Kith Creates "Fantasy Hangout" Space
Today's brands need to capitalize on the extremely valuable word-of-mouth promotion that experiential marketing campaigns facilitate by creating events that are shareable and generate excitement. For instance, at the popular sneaker shop, Kith, adults can shop for the latest fashionable sneakers and sportswear while indulging in the sugary sweets of a cereal-centric ice cream bar—also known as Kith Treats. The tempting confections make it easy for shoppers to promote the brand through their Instagram accounts, helping the ice cream bar alone gain over 55,000 followers on the social media platform.
Lean Cuisine Installs Innovative Experience in New York's Grand Central Station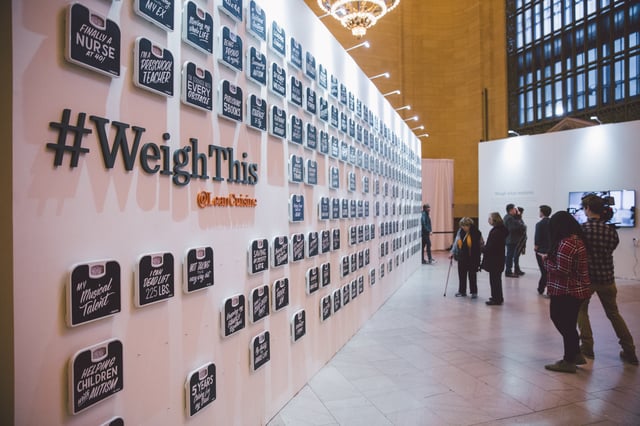 In 2015, Lean Cuisine's #WeighThis campaign was a refreshing break from their typical weight-loss centered messaging strategy. The #WeighThis campaign was an interactive, branded experience that consisted of a curated gallery of "scales" in New York City's highly trafficked Grand Central Station. Women were invited to "weigh in" on "scales" where they wrote how they would prefer to be measured—which didn't include their weight in numbers, but rather their accomplishments. The company's Twitter handle and exclusive hashtag made it easy for people to share on social media. This new approach paid off for Lean Cuisine with over 204 million total impressions. Watch the inspiring video here!
Execute Flawless Experiences with Robust Retail Merchandising Software
Unlike traditional marketing channels, experiential marketing campaigns can actively nurture and engage new and loyal customers while providing significant financial gains for brands and retailers. Nonetheless, we know that a successful experiential retail strategy is no easy feat, as brands must ensure that their in-store experience captures the attention and imaginations of attendees. Engaged customers can spring from creative in-store sampling and demo programs to more sophisticated campaigns requiring elaborate installations. Such innovative in-store experiences and product placements will make them stand out in the new era of brick-and-mortar retail.
By implementing a robust retail workforce management and execution platform like Natural Insight, retailers can effortlessly adapt to changing consumer needs. Natural Insight's in-store merchandising and retail task management solution provides insight into consumer trends and workforce health, helping retailers execute flawless and engaging experiences.
Download our infographic, New Rules for Success in Retail: How Experiential Marketing Fits into the Evolving Customer Experience now to learn more about the benefits of experiential marketing campaigns!
Caroline Lane is the Director of Marketing at Natural Insight. Prior to joining Natural Insight, Lane was a senior marketing manager with Aquicore, an energy management software system for real estate portfolios. Lane was one of the company's first ten employees hired and was responsible for building Aquicore's marketing strategy from the ground up. Lane also previously worked at Renault - Nissan where she helped the automobile manufacturer penetrate more than 14 Asian and African countries. She has a Masters of Science in Management from EMLYON, one of Europe's top ranking business schools located in France.