For over 50 years, Lawrence Merchandising has worked with clients to improve speed to sales by increasing product turns and reducing out-of-stocks through customized retail merchandising services across the United States and Puerto Rico. Lawrence is a full-service visual merchandising organization and provides a broad array of in-store retail services across all product categories and in multiple retail channels.
In order to deliver superior merchandising services, Lawrence leverages experienced and skilled W-2 employees who dedicate themselves to becoming true experts on various product categories. Lawrence reps can quickly and efficiently navigate any retail environment to best position products for maximum sales.

 Lawrence provides real-time reporting and rich analytics so customers can make better decisions and stay ahead of the competition.
Flawless execution of merchandising projects, however, hasn't always been easy for Lawrence. In the past, scheduling work was complicated and employees struggled to see and accept assignments. Employees could not verify work in real time which made getting real-time reports to customers difficult, if not impossible. Rather than focusing on satisfying customers, managers were spending hours each day manually tending to the business of managing people.
To overcome these challenges, Lawrence decided to upgrade their workforce management software system in order to:
Automatically schedule employees based on relevant attributes including skill, locations, and preference.
Give workers a simple way to accept, perform, and verify completed work assignments
Collect, analyze, and share operational data with key customers.
To help take their business to the next level, Lawrence selected the innovative workforce management cloud from Natural Insight. "Natural Insight makes it easy to schedule the right people for the right jobs and gives us the reporting tools we need to verify that we're delivering the highest quality merchandising solutions to our customers," said Andrea Kraatz, Lawrence Merchandising's Workforce Management supervisor.
Since switching to Natural Insight, Lawrence is executing retail projects to perfection. Employees are reporting data in real-time which, in turn, enables Lawrence's corporate managers to spend less time managing staff and more time satisfying customers.
And that, my friends, is how innovative merchandisers get work done.
Schedule a demo to learn more.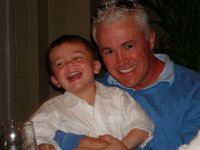 Husband and father. Software innovator, entrepreneur and marketer. My wife is my soul mate. My 3 kids are my greatest accomplishment. I love innovation and marketing. Also running, yoga, wine, Baltimore Ravens and Avalon, NJ. Sales and Marketing VP at Natural Insight. Founder & CEO of ZoomSafer. Co-founder of SMBLive. Marketing VP at Groove Networks and USinternetworking.