Social media engagement with your brand increases awareness, gains new customers and cultivates brand loyalty. So, how can you get your customer base to share your brand? Start by generating interest and inspiring social posts, interactions and shares with these merchandising techniques.
Play with Merchandising Trends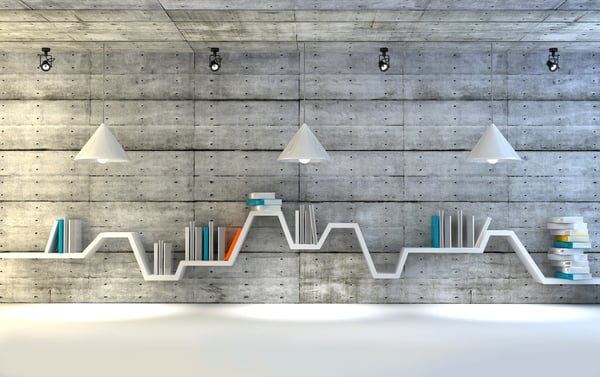 People love to share what's trending. Inspire consumers to share the hottest trends by incorporating them into your store. Minimalism, for example, has taken the merchandising limelight, satisfying consumers' desire for curated selections and mirroring the growing movement in fashion, design and lifestyle. These top minimalist Instagram feeds are great inspiration for new merchandising ideas. Not into minimalism? Try funny or eye-catching signage, photo-ready retail bags or incorporating pops of Pantone's color of the year (Ultra Violet for 2018) into displays.
Lighting also plays a large role in creating share-worthy retail displays. Research shows that the lighter a photo, the more likes it receives. Give the people what they want (while reaping the rewards of likes and shares) by ensuring your store is well-lit.
Tip: If you're looking to play with colored lighting, go blue. Cool lighting performs better than warm lighting in Instagram photos.
All in all, make sure your retail merchandising is cohesive. Throwing together several trendy elements without considering their overall coordination can result in a messy look that's eye-catching in all the wrong ways.
Spice Up Displays with Augmented Reality (AR)
AR is a prominent retail trend that's enhancing consumer experiences, from retail apps that scan barcodes to provide product information to AR mirrors that apply virtual makeup. Consumers crave excitement and product interaction when shopping in stores; wowing them with fun and cutting-edge technology is a great way to inspire them to share their experience on social media. Some retailers have even taken advantage of Snapchat filters to get the word out about their store.
Make Promotions and Hashtags Prominent
Appearing in a customer's social media post is only half the battle. To encourage further engagement that generates new leads and cultivates brand loyalty, incorporate brand hashtags and social handles prominently in displays. Make sure hashtags are tailored (one hashtag is more memorable than five) and represent larger brand messaging to connect with customers and encourage engagement.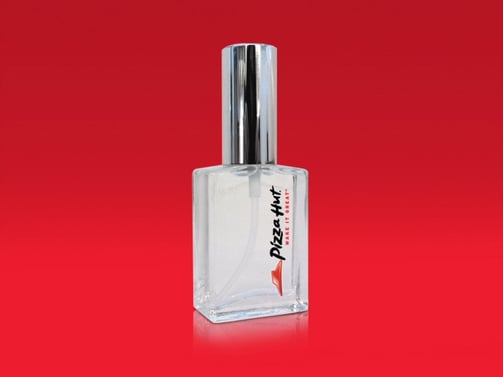 Copyright Pizza Hut
To further boost social media interaction, try incentivizing social posts or shares with a promotion or contest. This is a chance to get creative – sometimes the oddest promotions leave a lasting impression on consumers (like the pizza-scented perfume Pizza Hut gifted customers when it reached 100,000 Facebook likes).
Connect to Larger Brand Values
Merchandising efforts render the best results when tied into a larger brand identity. That's because people crave emotional brand connections; draw on core brand values to turn shoppers into loyal customers excited to share your brand. Apple, for example, implemented a minimalist, sleek store design to reflect their dedication to forward-thinking and cutting-edge technology. Their retail look is now so iconic it's been trademarked.
If you're struggling to tie brand values into an actionable social media campaign, start by reviewing the core brand values that you know resonate well with your customer base. Next, brainstorm ways to visually represent those values. Do customers love your brand for its organic ingredients? Display rich, vivid photos that tell the story of your natural production process. Is your brand known for being fun for kids? Set up a station that allows children to interact with merchandise (if the kids don't share a photo, their parents certainly will).
Keep Displays Looking Their Best with Retail Merchandising Software
Encouraging social media sharing is all about aesthetics; however, it can be hard to keep your store in tip-top shape. Natural Insight's retail merchandising software helps managers revitalize messy and neglected displays with retail task management while keeping shelves stocked and shifts staffed. Start boosting your store's social media presence by auditing your store's retail execution with our retail compliance checklist.
Caroline Lane is the Director of Marketing at Natural Insight. Prior to joining Natural Insight, Lane was a senior marketing manager with Aquicore, an energy management software system for real estate portfolios. Lane was one of the company's first ten employees hired and was responsible for building Aquicore's marketing strategy from the ground up. Lane also previously worked at Renault - Nissan where she helped the automobile manufacturer penetrate more than 14 Asian and African countries. She has a Masters of Science in Management from EMLYON, one of Europe's top ranking business schools located in France.