When it comes to luxury branding, presentation is everything. Consumers shop luxury brands to feel accomplished, empowered and exclusive - and with those high price tags, luxury retailers must ensure their merchandising and branding are consistent with luxury shopping values.
Impeccable Displays
Entrepreneur reports that, in luxury merchandising, "the emphasis on exclusivity, presentation and attention to detail is critical to help enrich the perception of the product." For this reason, luxury displays are often lavish. From Tiffany's upcoming $250 million store redesign to Melissa's retail store-art gallery hybrid, luxury retail merchandising reflects the high-end, expensive qualities its consumers crave.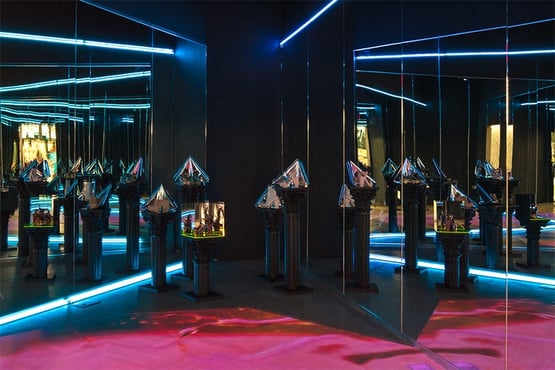 Photo credit - Melissa
In an industry where merchandising is integral to brand identity and expensive to implement, there is no room for error. Field reps need clear and specific instructions to set up displays and keep them impeccable.
Fortunately, mobile merchandising has evolved to accommodate even the most intricate retail specs. Some mobile merchandising apps, for example, can walk employees through display setup and checks, prompting each step with yes/no questions. Most employees find this interactive method much easier to follow than the traditional planogram. Managers also use this method to implement ongoing quality checks to keep displays looking their best.
Some merchandising software also enables employees to take photos of completed tasks for employers to review. Managers can then check the photos remotely for quality assurance and immediately assign fixes for any mistakes or incomplete work.
Manage and Train Brand Ambassadors and Field Reps
Brand ambassadors and other field reps should be just as on-point as merchandising techniques in order to sell luxury items successfully. While counterintuitive, the most successful field reps in the luxury industry have a practiced rudeness, delivering an air of exclusivity that contrasts the typical "everyone is welcome" attitude most stores assume. And for good reason: nothing says exclusive like the red rope that keeps you out – and rudeness is a verbal velvet rope. Star field reps should also be knowledgeable about the products and able to spot an out-of-place item from a mile away. Perfect displays and a velvet rope will do the trick.
Additionally, electronic merchandising software helps brands and retailers manage their employees and spot above-and-beyond reps by monitoring task execution and tracking performance.
Some retail task management software, for example, includes GPS check-ins, check-outs and pulses to ensure employees complete their shifts on time without long, unauthorized breaks. This helps retailers and brands manage remotely without increasing the risk of employee time theft.
Additionally, managers can rate and track employee performance with workforce management software; this helps managers identify their reliable and successful employees and note those that may need re-staffing or additional training. Got an important event or product launch coming up? Staff it with five-star reps to ensure the new merchandise makes a great impression on customers.
Product Launches and Resets
No different from ongoing merchandising displays, luxury product launches and resets need to be flawless – consumers won't believe a product is worth its high price tag without a presentation that wows.
First, retailers and brand should ensure strict product launch or reset compliance with quality assurance tools like visual verification and interactive planograms.
Also, product launches and resets are great opportunities for experiential marketing events. As luxury retailers often position themselves on the cutting edge of new trends, consumers appreciate experiences and events that surprise them, push boundaries or make them smile. Kate Spade managed to do all three when the brand ushered its new spring collection through the streets of Manhattan on camelback.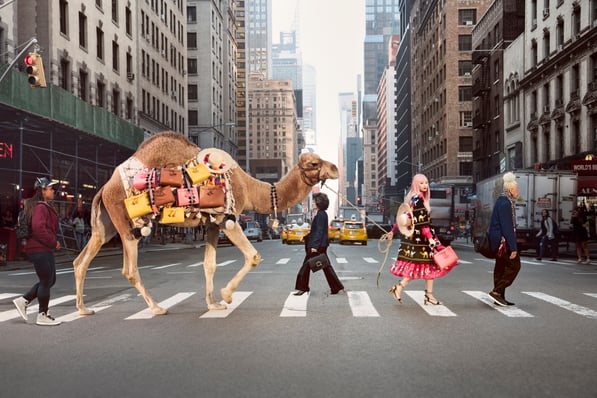 Photo credit - WWD
For more traditional brands, mansion-held events are trending as brands strive to give customers a sense of exclusivity and high-end living. Consider core brand values as well as broad industry and societal trends when crafting an event that resonates with audiences.
Regardless of brand identity, creativity and pushing boundaries are essential to successful luxury product launches. As Tiffany's window display designer Gene Moore once explained when asked if he ever ran out of ideas, "I don't run out of them; I run after them."
Ensuring Immaculate Execution with Top-Quality Mobile Merchandising
When it comes to luxury merchandising, brands and retailers are only as good as their tools. Retailers and brands should invest in mobile merchandising software that includes photo- and GPS-enabled verification, task management functionality and an intuitive reporting UI that informs companies on their efforts' success and helps shape future campaigns.
Wondering if your luxury strategies make the cut? Download our retail compliance checklist to get a reading on your store's merchandising.
Caroline Lane is the Director of Marketing at Natural Insight. Prior to joining Natural Insight, Lane was a senior marketing manager with Aquicore, an energy management software system for real estate portfolios. Lane was one of the company's first ten employees hired and was responsible for building Aquicore's marketing strategy from the ground up. Lane also previously worked at Renault - Nissan where she helped the automobile manufacturer penetrate more than 14 Asian and African countries. She has a Masters of Science in Management from EMLYON, one of Europe's top ranking business schools located in France.