Retail sales are currently on the rise, and retail's shift toward technological solutions is helping brick-and-mortar stores compete with – and beat – online players. How does retail technology work its magic? Here are some of the biggest in-store productivity gains from retail tech that your competitors keep close to the vest.
Faster Critical Processes
Gone are the days of managing stores with snail mail. Mobile workforce management and advancing retail technology enable retailers and brands to manage stores in real time, from stocking shelves to scheduling shifts.
Rather than waiting on traditional inventory reports, for example, employees can let managers know as soon as they're low on an item with mobile merchandising software. How? Mobile task management tools allow for detailed checklists and instructions that are communicated as they happen and while display and shelf execution can be visually verified to ensure closed-loop fulfillment. Managers can then reorder immediately, reducing the chances of lost sales on out-of-stock items. Similarly, managers can monitor shifts remotely, assign tasks and find covers for no-show employees in real time to keep processes running smoothly.
Quality Field Execution
Not only does cutting-edge retail execution software accelerate processes, but it also improves their accuracy to help employees and managers get things right the first time and address any errors quickly. Visual verification, for example, enables employees to take and send photos of displays, allowing managers to audit task execution quickly and remotely. With retail technology, consistently attractive and well-executed displays encourage sales, while remote, time-efficient quality assurance frees up management time and improves productivity.

Tip: Keeping shelf and display verification results within a record-keeping platform will reduce the headache of collecting scattered pictures and emails and texts to support your execution reports.
More Management Time
Tools like workforce scheduling and visual verification further reduce management time by streamlining processes and minimizing errors. In addition, workforce management software consolidates employee information, scheduling and payroll: employees get paid for each task promptly with less management effort. Taking human error out of the employee scheduling equation also reduces accidental overtime and benefit expenses.
Higher Workforce ROI
Retail technology software helps managers increase workforce ROI by monitoring employee performance, both task-by-task and overall. This helps keep employee fraud low and work quality high. Employee rating systems, for example, motivate employees to perform at their best while providing insights into staffing decisions and workforce health. For instance, five-star employees are great candidates for important, complex tasks while falling ratings across the board may indicate a problem with morale or instruction clarity. Clear insights help managers optimize their workforce for better overall store performance and employee productivity.
Unfortunately, employee fraud is an all-too-common problem and accounts for $50 billion in losses to U.S. companies each year. Some workforce management software includes fraud prevention measures to ensure employees are completing remote tasks honestly. GPS-powered check-ins, for example, verify that an employee checked in and out of their shift at the right time and location; photos tagged with metadata weed out poor-quality work and fake photos from employees attempting to cheat the system.
Better Insights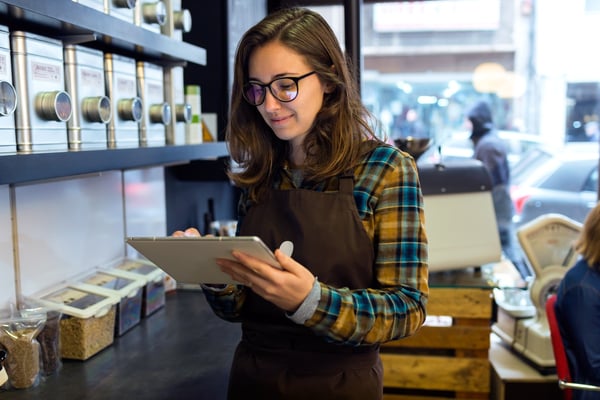 It's hard to boost in-store sales without knowing what works and what doesn't. Retail technology delivers fast, accurate insights into store performance down to the product, employee, time of day – you name it. Reduce the guesswork by looking for a solution with customizable reporting tools that display the data most important to stores' functionality and productivity. Detailed, real-time reports help stores address issues as they arise rather than after they've escalated into critical problems.
Choosing the Right Retail Technology
The most comprehensive and effective retail technology solutions include workforce and project management, quality control and detailed, customizable reporting tools. Natural Insight's field execution platform offers top-of-the-line technology with expert support and constantly evolving tools to keep companies at the forefront of industry trends. Request a demo to see how Natural Insight could help improve your in-store productivity and performance.
Caroline Lane is the Director of Marketing at Natural Insight. Prior to joining Natural Insight, Lane was a senior marketing manager with Aquicore, an energy management software system for real estate portfolios. Lane was one of the company's first ten employees hired and was responsible for building Aquicore's marketing strategy from the ground up. Lane also previously worked at Renault - Nissan where she helped the automobile manufacturer penetrate more than 14 Asian and African countries. She has a Masters of Science in Management from EMLYON, one of Europe's top ranking business schools located in France.