Originally kickstarted as Natural Insight's annual user conference, INSIGHT 2019 marked a significant evolution in the conference's identity. Presented for the first time by South49 Solutions, the parent company of Natural Insight, Capango, and Ni Exchange, the conference brought together a large variety of retail experts and leaders. This year, the conference's topics revolved around the concept of "Centralized Control, Decentralized Execution." By origin a military concept describing how the armed services must maintain control over the coordination of military operations while enabling its soldiers to execute those operations in theater, the concept also lends itself well to the retail industry and the organizations within it.
Constantly on the hook to meet client requirements while drumming up margins and revenue, retail organizations must not only make their in-store execution as efficient as possible, but also enable fluid collaboration between that execution and management, necessitating that management have full visibility into retail operations.
INSIGHT 2019, which took place in Annapolis, Md., explored many challenges, trends, and ideas crucial to the retail industry in 2019 and beyond.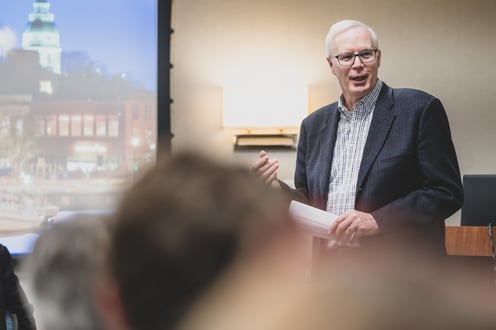 South49 Solutions President and CEO, Stefan Midford, addresses the audience during a breakout session
Thought leaders and executives from a vast number of brands, retailers, and retail staffing companies met to delve into a myriad of topics: the importance of leveraging communications to gauge and improve the commitment of decentralized teams; how to best grow your organizations and the challenges in doing so; how the increase in independent contractors is challenging traditional employment structures; and what lessons the retail industry at large can learn from the past and apply not only to the current marketplace, but also in the future.
With a two-track agenda, executive attendees were able to tackle these topics with their peers in inclusive, discussion-based sessions while system admins and technical staff were able to attend sessions based on Natural Insight's best-in-class retail collaboration and execution software.
Capango, Natural Insight's sister company under their parent, South49 Solutions, also held a lab during which decision makers could learn about leveraging Capango to find quality retail workers—yet another chief challenge plaguing the retail industry. In addition, Ni Exchange was introduced, the work marketplace enabling retailers, product companies, and staffing companies to exchange work and proven labor with trusted partner organizations.
The consensus from the conference is that the retail industry is in transition. Contrary to attention-grabbing headlines published by big name newspapers, the industry is not dead; however, certain practices within it are less lucrative than they once were. As consumer behavior evolves and places a premium on the retail experience, retail organizations must be flexible to meet the demand and leverage the right technology to do so. Store closures are less of an indication of a dying industry than they are of the United States being "over-stored," said Tom Palombo, CEO, The InStore Group. With too many options, consumers are overwhelmed, opting more readily to shop at a store that puts weight into tailoring the experience to the consumers themselves. But industry experts view this as an opportunity for their organizations. "I think we are in an opportunity market," Palombo added. "Every time the model is changing, it creates opportunity."
Those organizations who have made efforts to fit into this new structure have reaped its benefits; however, with growth comes another set of challenges. As another executive said, organizations walk a fine line between achieving growth and preserving their culture. On top of that, companies must remain innovative no matter what size they are.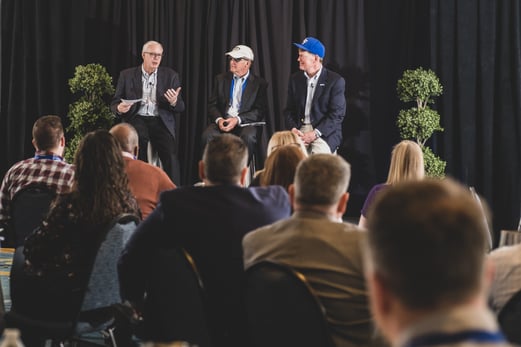 South49 Solutions President and CEO, Stefan Midford (left), moderates a panel consisting of LtGen. John F. Sattler, USMC (ret.) (middle) and Maj. Gen. Mike Skinner, USAF (ret.) and CIO of Eurpac Service Inc. (right)
A chief challenge of the retail industry remains to be hiring quality workers to conduct retail execution. At the conference, executives continued to report having trouble meeting their labor needs, forcing them to continually sink money into recruiting costs. This challenge is especially pronounced when viewed in conjunction with the trend that more retail employees are opting to work as 1099 employees instead of W2 employees. "The amount of workers who want to be an employee is decreasing," said Carl Camden, Founder and President at IPSE-U.S., an association for independent professionals across many labor markets. "The industry is not ready to deal with this," he added. Many retail organizations have tried to catch up with the trends, but current labor laws—as they pertain to independent workers—are stuck in the past catering to old employment models.
These and many other topics were tackled at this leading conference for retail execution. "The path for successful retail is paved by effective and comprehensive talent acquisition strategies—strategies that create efficiencies to better execute across the entire ecosystem and expand retail connections beyond the enterprise and into the larger work marketplace," added Evan Armstrong, Vice President, Government Affairs at the Retail Industry Leaders Association.
---
INSIGHT is held every Spring and is the only conference focused on retail execution and bringing together brands, retailers, and retail staffing companies to network and learn. To learn more and get the full value of the conference, subscribe to the Natural Insight mailing list to receive notifications and more information on INSIGHT 2020.