Updated May 2022
The QR (Quick Response) code – a 2-dimensional, square-shaped barcode that phones can scan to retrieve information – became popular in Japan in 2002, and is now fully integrated into Japan and China's technology culture. While QR codes have a track record of spotty success in the U.S., their popularity has been on the rise since Apple's iOS release included a built-in QR code scanner in iPhone cameras. Here's how a few industries are incorporating QR codes into their retail merchandising strategies.
Seamless Self-Checkout in General Retail Stores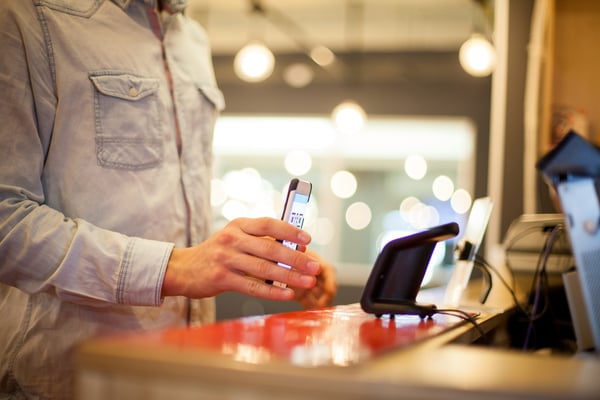 QR codes are revolutionizing self-checkout. For example, Walmart's new mobile app feature allows customers to scan item QR codes as they shop and skip the lines by simply paying within the app, anytime. This method also unifies the customer's omnichannel experience by applying digital coupons and saved payment methods to their purchase.
In another example, Amazon, one of the biggest e-commerce catalysts, recently moved into the brick-and-mortar space with the help of QR codes. Amazon Go allows customers to skip the checkout by scanning a QR code when they enter the store, tracking their item selections with their Just Walk Out technology.
If anything unifies these creative uses of the QR code, it's their goal: make the shopping experience fun, hassle-free, and as painless as possible – effectively taking a disruption-by-bites attack on the best part of online shopping: the convenience.
Promoting Food Transparency
Healthy and organic food sales are increasing, and food brands have taken note. The Grocery Manufacturers Association are placing QR codes on food wrappers so customers can learn more about the product's ingredients. It's a clever solution to providing information that's in demand on those tricky, small or individually wrapped items.
As wine sales continue to grow, some manufacturers now include QR codes on wine bottles to give savvy sippers design and functionality that's par excellence. One scan tells them the wine's origin and even suggests food pairings, creating a virtual wine-tasting experience.
Easily Accessible Fashion Merchandise Information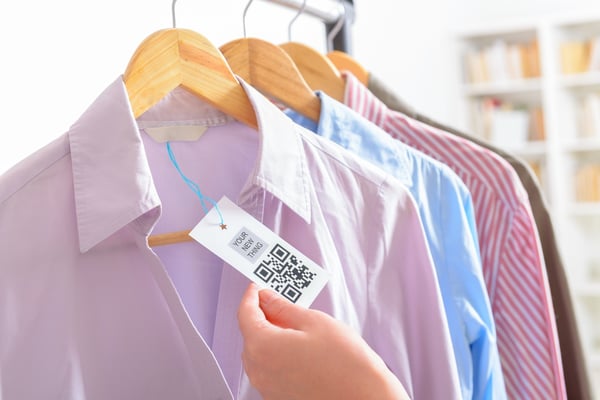 Nearly 60 percent of consumers look up product information on their phones while shopping. Fashion retailers kept abreast of this trend (don't they always?) with their own twist on the QR code. Zara, for example, includes QR codes on clothing tags to help customers quickly look up manufacturing information and alternate size and color options.
Where fashion goes, social media is quick to follow. Pinterest is encouraging brands to tag products with QR codes that link to related Pinterest boards. Cath Kidston, for example, tags handbags with QR codes that direct consumers to color-themed Pinterest boards to inspire complete looks and future purchases.
One of the reasons QR codes didn't work in the past was their failure to provide customers with valuable information. Instead of directing people to a website or ad, try incorporating QR codes into an interesting retail campaign that entices customers to scan, explore, and convert.
Tip: Be sure to include an explanation of what each QR code will do, so customers have a reason to scan it!
Enhance Shopping Experiences with QR Codes
QR codes empower consumers with more information and seamless transactions to enhance their in-store experience and contribute to an omnichannel retail strategy. Try inspiring shoppers with a QR code campaign that contributes to your store's experiential marketing efforts, and ensure its success by managing its planning, implementation, and monitoring with a robust retail execution software like Movista.
Get a head start on even more insights into the consumer and ways to meet their expectations with this 2022 Leadership Workforce Outlook, Top Retail Pain Points and Solutions.
Caroline Lane is the Director of Marketing at Natural Insight. Prior to joining Natural Insight, Lane was a senior marketing manager with Aquicore, an energy management software system for real estate portfolios. Lane was one of the company's first ten employees hired and was responsible for building Aquicore's marketing strategy from the ground up. Lane also previously worked at Renault - Nissan where she helped the automobile manufacturer penetrate more than 14 Asian and African countries. She has a Masters of Science in Management from EMLYON, one of Europe's top ranking business schools located in France.