The luxury industry has always been a bit difficult to pin down. Several studies have looked into what motivates customers to spend more on items when the price goes beyond a difference in quality. While identifying consumer motives can be difficult, we know that many customers shop luxury items to enjoy exceptional quality, display status, feel part of an exclusive elite and to treat themselves.
These motivations form the backbone of successful luxury merchandising. Here's how product companies can capitalize on these drivers with merchandising that boosts revenue and generates a loyal brand following.
Ensure Retail Displays Offer Head-to-Toe Luxury
When it comes to luxury, brands need to fully commit or risk coming off inauthentic. For merchandising, that means everything should live and breathe high-end. From light fixtures to retail shelving and signage, consumers expect high quality and notice when something doesn't meet expectations.
For example, imagine a thousand-dollar purse perched on a rickety display table or next to a fading sign – doesn't exactly scream "high-end." Any out-of-place store fixture can undercut an item, positioning it as an overpriced wannabe rather than the "real deal."
The brand Off-White, for example, uses gold countertops and light fixtures to enhance shoppers' feeling of luxury. Luxury jeweler Cartier carefully curated themed rooms in its flagship store in Paris with accent pieces, artwork, custom furniture and more.
Carefully consider the fixtures and accents that will supplement your products in stores. To keep things looking luxurious, many brands use retail management software to assign merchandising tasks and check in on retail displays for ongoing quality assurance.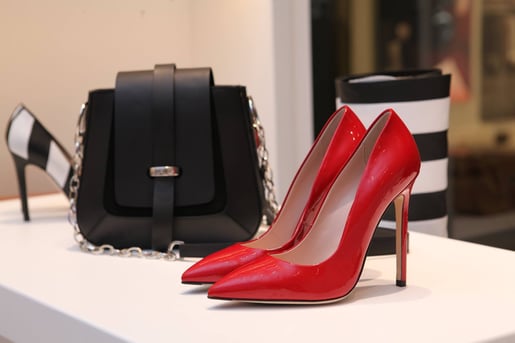 Everything Should Be Purposeful
In luxury merchandising, not only is everything high-end, but it's also thoughtful and strategic. From convenient charging stations to in-store bars, food, styling options or even fully-fledged salons and spas, the best luxury brands have their customers thinking, "Wow, they've thought of everything."
When planning luxury merchandising, imagine being a customer shopping at your displays. What would you need to fully experience the product? Fashion items, for example, require mirrors and good lighting for the shopper to envision themselves with the product. In a walking mall, customers may want a chance to rest their feet while shopping; product companies featured in pedestrian areas could invest in on-brand seating for their merchandising space.
Anticipate your customers' needs to provide an experience that removes any shopping anxiety and makes them feel like the experience is catered to them. As always, make sure all installments feel luxurious and high-end.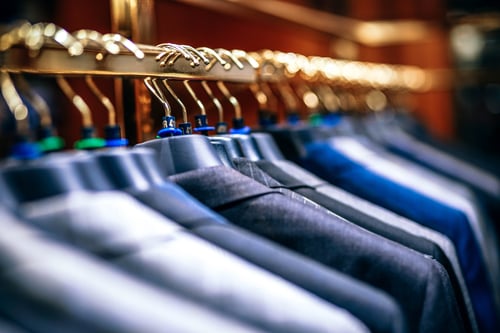 Floor Reps Must Play the Part
With luxury merchandising, knowledgeable floor reps who embody the brand are key. They'll need to know the ins and outs of all products and be able to communicate them effectively to customers. Brand ambassadors shouldn't seem like contracted workers; rather, they should act as integral parts of the brand community, pushing the idea of brand culture and exclusivity. Luxury product companies should look for experienced field reps who excel at interacting with customers and can learn and remember detailed product information.
Further, luxury shoppers respond well to snobby sales reps. Why? It helps build a feeling of exclusivity. Luxury product companies should look for reps that can take on a brand's full persona, including aloofness, knowledgeability, personal style and other brand-central traits.
Product companies can use team task management software to delegate tasks and track employee performance. This helps them cultivate their loyal, high-performing workers for a reliable, brand-aligned team.
Cultivate Exclusivity
Exclusivity is a key differentiator between luxury and everyday products. With everyday items, everyone is welcome and encouraged to purchase. Many luxury shoppers, on the other hand, enjoy being part of an exclusive brand community – hence the aloof floor reps.
Luxury product companies achieve this exclusivity factor with limited-edition releases, waiting lists and more. Hermès, for example, purposely makes coveted Birkin bags (around $12,000 to $200,000 a pop) so hard to get that there are several articles, blogs and forums with advice on how to get your hands on one.
How do product companies cultivate an exclusive community through retail merchandising?
Appointments are a common method for making customers feel like part of a brand's inner circle. Other techniques like inviting select customers to preview new products, VIP lounges and custom-making orders (Le Labo mixes perfumes to order right in front of the customer) are great ways to cultivate the feeling of being part of an elite group.
Consider the factors that draw people into your brand's community and brainstorm ways to capitalize on them to give customers an exclusive, one-of-a-kind experience.
Perfect Luxury Merchandising with Field Management Software
Luxury shopping is about more than just the item itself. It's about the experience as a whole, and merchandising needs to reflect that consistently. Ensure your brand nurtures a reputation of excellence with field management software that assists with task delegation, workforce management and ongoing quality assurance.
To learn more about cultivating a captivating shopping experience, read our infographic on experiential merchandising.
Caroline Lane is the Director of Marketing at Natural Insight. Prior to joining Natural Insight, Lane was a senior marketing manager with Aquicore, an energy management software system for real estate portfolios. Lane was one of the company's first ten employees hired and was responsible for building Aquicore's marketing strategy from the ground up. Lane also previously worked at Renault - Nissan where she helped the automobile manufacturer penetrate more than 14 Asian and African countries. She has a Masters of Science in Management from EMLYON, one of Europe's top ranking business schools located in France.