What Is Retail Merchandising?
Retail merchandising refers to the way retailers, brands and other product companies make their merchandise available in stores. Retail merchandising includes both execution (i.e., shelving items and installing displays) and strategy, which includes product selection, product placement, display design, and other techniques. The purpose of retail merchandising is to encourage purchases.
Successful retail merchandising requires careful planning, implementation, management, and analysis. Let's take a look at the facets of a great retail merchandising strategy and some of the tools that help brands, consumer goods and consumer packaged goods companies as well as retailers keep a steady course and an ocean of products in order throughout a merchandising expedition.
What Is In-Store Merchandising?
In-Store Merchandising Definition: The display setups, shelving layouts, space allotment and other considerations for displaying and selling products in physical retail locations.
While general merchandising can include product design, packaging, online sales and branded promotional items, in-store merchandising refers specifically to product merchandising in stores.
For Inspiration: Looking to elevate your in-store merchandising strategies? Check out these 7 hacks to boost in-store retail sales.
How Merchandising Impacts Retail Brand Equity
Companies' merchandising techniques greatly influence brand recognition and perception and significantly contribute to retail brand equity.
Brand equity is the value of a brand from the consumer's perspective, including its recognition, perceived values, customer loyalty and other factors. Retail brand equity is a brand's value perceived by consumers based on its representation in retail stores.
Product companies should ensure their merchandising upholds their brand's image, from color scheme to mission statement, to maintain high retail brand equity. There's a reason, for example, that there are no green Apple stores or plastic Chipotle bags: Apple's monochromatic branding and Chipotle's dedication to sourcing eco-friendly materials permeate through every aspect of their merchandising.
The Takeaway: Retail merchandising that clearly, consistently and memorably represents a brand's identity helps generate the strong market presence and loyal following that keeps retail brand equity high. In fact, consistent branding increases revenue by an average of 23 percent.
Developing an Effective Merchandising System
With all this in mind, how do brands develop efficient and manageable retail merchandising systems?
Most companies – especially those working with multiple retail sites and remote management – now use digital merchandising software to manage in-store merchandising. Natural Insight, for example, empowers managers to oversee task assignment, merchandising execution, employee performance and more all within one application. Integrated merchandising management systems like these help companies achieve cohesive, high-quality merchandising, even with remote and large-scale teams.
More Learning: If you're a product company or a retailer, it's wise to compare creating an in-house merchandising system vs. purchasing a complete platform that's ready to go "out of the box." Check out our infographic on "Build vs. Buy" to help learn the costs and wins of both.
Performing a Retail Store Audit
Brands and product companies should regularly perform retail audits to ensure stores' merchandising is compliant with agreed-upon standards. The retail store audit process checks merchandising execution, including:
Correct product placement including location in the store.

Product expiration dates.

Item counts on shelves and in back-room inventory.

Count of facing item per SKU.

Sufficient and accurate signage.

Usage of floor and shelving space.
Retail staff (often store or district managers), brands or third-party labor can perform store audits. These audits help both retailers and product companies hold each other accountable; after agreeing on floor space allotment, signage and other merchandising tactics, retail store audits verify each party upholds their end of the deal.
Retail store audits are critical to assessing and improving compliance and should be performed regularly. Using software that includes inventory management features such as fulfillment information and automated audit-based reordering can further the benefits of audits.
Some Wisdom from Our Clients: One of the key components of the Natural Insight platform is visual verification. If you're working on your own verification system, be sure to find location and time-tracking data on verification images. The demand for this aspect in the verification process came from research indicating employees had recycled previous photos, fibbed about the time of completion, and more.
Whether it's communication, organization or verification, having a plan is key to successful product sales. Grab our retail execution checklist to make sure your products fly off the shelves with minimal wasted time and effort.
Diving into Product Merchandising Management
In the following sections, you'll discover insights and advice that spans the lifecycle of product merchandising. From launch to recalls to managing everything in between, retailers, merchandisers and product companies can all benefit from building their product merchandising mastery.
Product Merchandising Management - The Powerhouse Behind Sales
Advertising might get award-winning TV shows like Mad Men, but at the core any successful consumer brand company, you'll always find well-oiled product merchandising management organization. It's the silent hero that powers sales. From communicating with field staff to training to task management to product displays, end-caps and beyond, execution is 9/10ths of the sale.
Keeping your merchandising efforts on track won't stop when the product is on the shelf. It begins at product launch and doesn't stop until the product is retired. It also includes seasonal merchandising, on-going inventory management, resets, marketing and more.
Product merchandising management also connects vision, employees and execution into one. Getting products into customer hands, however, means tracking time, execution, employees and merchandise on the floor – and in the back room.
Who does this affect? Retailers, consumer packaged goods companies, consumer brands and third-party merchandising companies and remote workers as well as in-store merchandising employees. This subject is expansive, so we recommend getting started on your management strategy with the top reads below. Have more questions? Contact us, we'd love to help!
Top Reads: Check out the Retail Execution Checklist and the Experiential Marketing Strategy Guide for more help with your product merchandising and management goals.
Retail and Merchandising Tips To Live By


Happiness is the emotion most likely to encourage shoppers to make a purchase.
Evoke happiness with your retail merchandising using warm colors, photos of people or animals. Learn more in our blog on emotion in retail product merchandising to expand on these emotional triggers.
Pay close attention to target customer data when planning seasonal merchandising.
In Natural Insight's yearly holiday shopping survey, for example, we report insights into anticipated age, gender, purchase timing and dive into exactly what makes them tick. During one of the most competitive retail moments of the year, make your product shine with merchandising that's laser-focused on your shoppers' wants and needs.
Goodie Bag: Check out the results of the 2018 Shopping Survey, provided by a huge number of our clients!
Design social-friendly retail product merchandising.
Brand loyalty, product exposure and a bursting customer base drive the retail product sales that merchandisers promise. Social media offers up a cornucopia of ways to expand them all. Stay on top of trends, the technology that customers are running to and the values that drive them to buy – or not buy – your product.
Top Read: Check out our blog on getting customers to share your products on social media. Stay up to date on all the tips and trends we generate, weekly, too!
Exploit new venues for your products.
Get your products in new places. One innovator we've spotted? A company that puts retail inside rideshare services and ads for those products on their phone when they purchase. On-the-go snacks in the car and ads that pop into the user's phone keeps them buying – even when they're zooming past storefronts and quick-stop locales.
For product launches, promotions and other important moments, go experiential.
Lisa's kids just got out of school for the summer. Janet and Mark celebrate each hard week at work with a weekly Friday outing.
Meet them on their feet!
Janet and Mark might have gone to see 29Rooms (and paid to see it). There, they experienced the fun and activity sponsored by brands like Dunkin' Donuts, Shatterbox and TNT. What might they find? Selfie-friendly, targeted funhouse rooms, a mock game show, and surrealist art that is on-brand and audience-centric (and not just pumping the merch).
Lisa's kids, however, were positively dying to go to the Coca Cola/FIFA augmented reality event near the local transit station. There, the kids lined up to show off their footwork for their favorite sports star and appeared right next to him, while Lisa signed them up for a chance to attend the World Cup. Do you suppose there was Coke on hand? One thing was certainly in the kids' hands: a brand new copy of the latest FIFA game.
The Takeaway: Every business is scrambling to make sales online. Meanwhile, consumers are craving more real-life experiences and beginning to curtail their screen time. Experiential marketing means even shopping can contribute to those who crave the tangible world.
Developing a Successful Product Launch Plan
Coordinate with Suppliers, Stock Rooms and Retailers and Staff
This step of the product launch means ensuring communication between the folks on the floor who make the displays light up and everyone involved with stocking, supply chains and distribution. Are products landing at the right retailer? Do retailers and merchandisers have a way to prove field execution and communicate needs?
Align and Prepare Displays, Advertising and Brand Ambassadors
A unified brand means having a clear and polished brand framework in place. From there, messaging is born. And from that messaging comes the talking points for your brand ambassadors, the punchy and engaging advertisements and
The Bottom Line: Products need to be on shelves. Messaging needs to be unified. Ads need to be flying and product launch exposure at a maximum. Carefully aligning planning and objectives to the right execution tactics is critical. And using the right collaboration tool might make the difference between a successful and failed launch.
Facilitating a Seamless Product Reset
Product resets can seem daunting. Heck, they are daunting. The simplest way to approach them is by staging each part of the the reset process. Start by breaking down the process into parts.
Merchandise Unloading and Unpacking

Keep close track of shipping dates and employee staffing for big unpacking and unloading pushes. Ensure employees are on-site – even remotely – with a real-time mobile check-in and check-out program. Natural Insight provides that as well as anti-time theft verification tools backed by GPS tagging.
Ensure appropriate stocking area shelving is ready to go – you don't want to end up throwing pallets onto the floor and clogging already cramped spaces.
Clear discontinued merchandise from shelves and secure for processing.

Product Display Setups

Gather or acquire the proper shelving, display and assembly/disassembly tools.
Create/acquire and distribute planograms. Modern merchandising execution platforms make retail product launches and resets quicker. How? They distribute mobile-friendly planograms, specific steps with real-time checkoff procedures and non-gameable verification photography.
Deploy the merchandisers!

Pricing and Signage Setups

Now that product is on the shelf and displays are loaded, signage, shelf-hanger displays and those beautiful, dangling impulse buys can be put in place without hindering shelf stocking.
Take this list on the go! Download the Seamless Product Reset Checklist PDF here.
Retail Inventory Management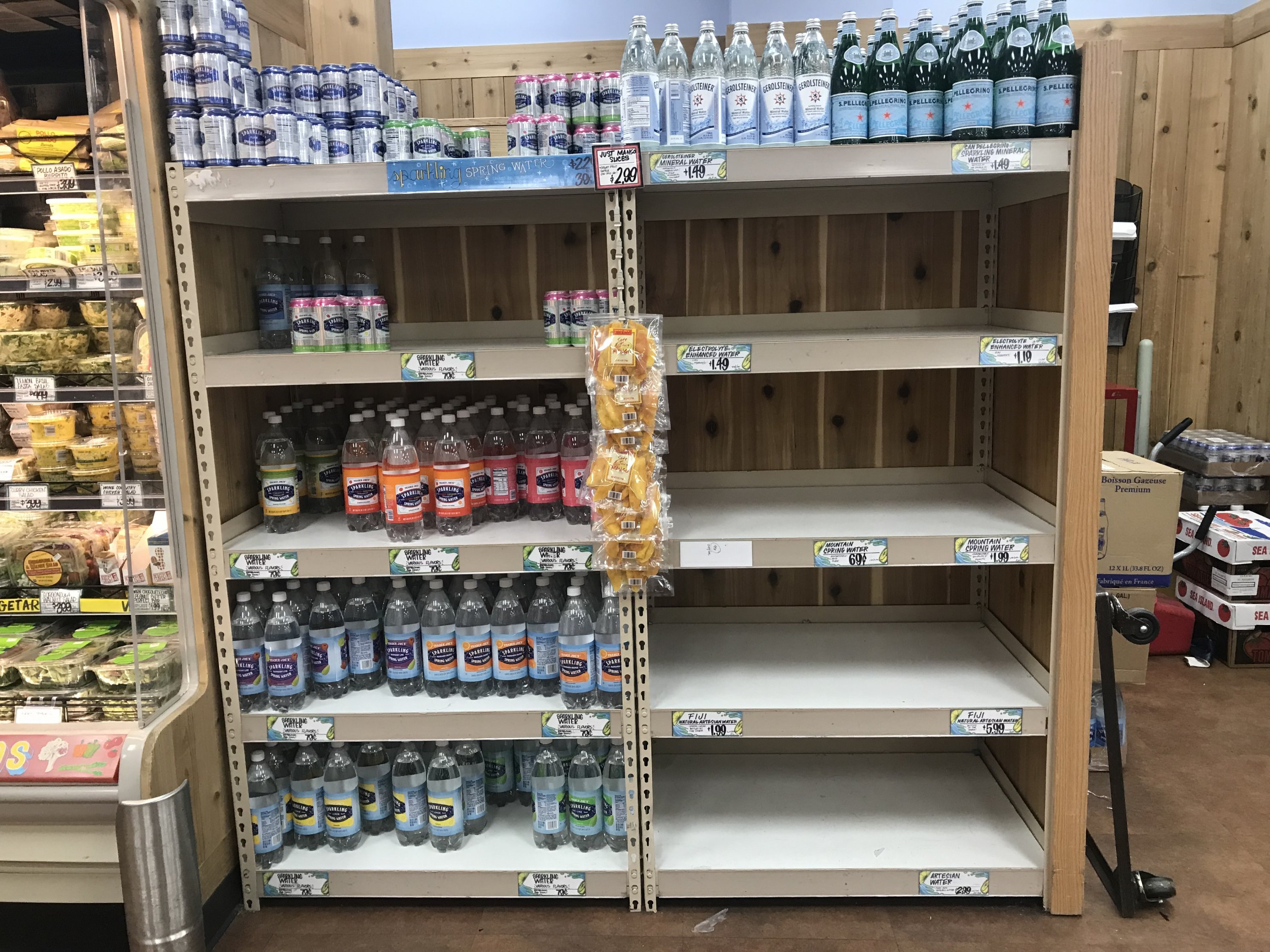 No matter what you sell, the picture above is probably your worst nightmare. But don't let inventory management get to you. There are a million ways to keep stock fresh in any retail environment without losing your mind – or hair. But, it all starts with a strategy supported by solid tactics.
Try Seasonal Sales Tracking
Each season comes with its own store inventory management challenges. Track seasonal trends to make sure they don't catch you by surprise. Shipping takes longer around the winter holidays, so factor for extra time in that window. Also, certain hot items will tend to sell out – fast. Make extra space for those hyped-up seasonal grabs and make sure you bring in the traffic that makes the holidays carry the dreaded off-season.
Ditching spreadsheets and manual item counts can save hundreds of hours of labor every year. The booming tech trade not only makes retail execution and merchandising easy to manage, it's spread to help the stock room.
Build Retail Inventory Control
Inventory systems come in all shapes and sizes. From our tip in #2, scope of product is really going to matter. Those store inventory management systems we mentioned might work for you – but what if you are running an online business? What if it's designed for clothing and apparel only? Keep an eye on factors like those before committing. Also – read on in our next section to find some help deciding!
Stock Room Management Tip: Monster businesses could benefit by trying out QuickBooks Enterprise, while smaller shops will likely benefit from a streamlined, lower-cost solution like Boxstorm.
Finding the Right Retail Inventory Management System
Retail Inventory Management from Small Business to Enterprise
Let's not kid ourselves. Even if your business is through the nightmarish first two years, sifting through operational stacks is an ongoing chore as you grow. Here are a few systems we thought fared well in the retail inventory management reviews.
Vend. Vend offers a free retail inventory management solution that lasts forever. There is a catch, however. One of them is awesome: you can try all of the features of any plan for the first 2 weeks. The bummer? The lifelong free plan, after that, will tie to 1 register, for 1 location, and unless we're reading it wrong, will only track 10 different active items. We're guessing you're not a New York Hot Dog Vendor (thank you, if you are) so, it's likely some upgrades will be needed.
Shopify's inventory management is pretty slick and keeps up with the demand for wireless barcode scanning to ring up orders and track inventory simultaneously. For small business, that extra time-saver is a big win. The drawback? While they also offer a free trial, you can only test out the basic options during those two weeks.
NetSuite ERP. You have officially entered the big leagues. Did you order a semi-trailer full of goodies for your next stock push? And the next one is coming 6 days from now? This is more your speed. While you're at it, the suite includes human resource and financial tools, too. A good way to reduce the stack and save some time.
Further Reading: Here's a link to retail inventory management reviews on Capterra to help you on your way. Are you wondering if a program isn't the only way to optimize your stock management? Check out Shopify's blog on the inventory management principles that stop cash hemorrhaging.
Managing Product Recalls
Product recalls are a major headache for retailers and CPGs. While we won't touch on the reputational and financial fallout, we will try to help you with logistical handling that minimizes work and frees up resources.
CPGs Must Monitor Their Contracts
When recalls come, retailers can find themselves reacting to the negative outcomes through contract changes. Some may be tempted shield themselves from liability by wording their contracts with manufacturers to put all liability onto the maker. While we aren't taking a stance in either direction, these contractual actions can put the entire legal onus directly onto one party. Pay special attention to work out an agreement that is equitable to merchandisers but safeguards manufacturing from late and overlooked product recall product distribution.
Retailers and Merchandisers Need to Monitor Contracts, Too
The great relationships you've worked out with manufacturers and suppliers should make sure the onus of a recall doesn't fall squarely on you. While this is rare, contracts matter. Bad timeline expectations, unreasonable cost of shipping and lack of timely replacements can cost time and money. Examine contracts with care!
No Matter Who You Are, Make a Recall Plan
Some basic product recall steps include:
Create a procedure for identifying and dealing with safety issues.
Determine a chain of command for handling the recall.
For CPGs, create a recall task force.
For merchandisers and retailers, create a plan for space, staff and execution.
Work out a shipping plan for returns.
Set up a waste management alternative for bulk disposals.
For merchandisers, consider a special on-call staffing protocol.
For CPGs, determine a social media strategy to protect the brand.
For CPGs, lay out expected 3rd-party costs and customer loss expectations.
Consider Product Recall Software
Numerous high-quality product recall software providers can handle all of the above logistical elements without cumbersome paper trails and too much back-and-forth. With a combination of retail merchandising software and the recall software to manage unforeseen events, CPGs, retailers and merchandisers can rest assured that stock is attractive, safe, fresh and properly displayed.
The Takeaway: In the end, planning is the best medicine for managing a recall. Without one, displays, sales, stocking, staffing and costs are likely to spiral quickly out of control. To make your life easier, take this product recall cheat sheet on the go with you.
Using Product Merchandising Software
Whether you're a retailer, a product company or a merchandiser, few things are quite as challenging as retail execution. From small shops with big displays to sprawling regional responsibilities, organizing and managing accountable retail execution is finally within reach on a single platform.
Here we'll discuss how using Natural Insight's retail execution and merchandising platform creates visibility, accountability and the insights you need to keep productivity, displays and stores at their best – without having to chase down critical information.
Mobile Merchandising Platforms Make for Rapid, Complete Adoption
Natural Insight is designed with mobility and ease of adoption at the forefront. Made to work on tablet, computers and smartphones, the platform connects employees to managers all the way to regional and corporate – in real time.
Cloud Platform for Hassle-Free Operation
Building an in-house retail execution program costs time, money and manpower. It may seem like a cost cutting choice, since there might be no recurring fees. This is, in part, true. However, much is lost in designing such a program or application from scratch, internally. Natural Insight is built on years of experience in streamlining and perfecting retail execution with feedback from its numerous clients. Integrating devices? Done. Rolling out updates? Managed. Time lost? Zero.
Leverage Mobile and Cloud
Natural Insight is on the forefront of visual merchandising apps, making scheduling and execution management fit the modern workplace.
Execution Tracking Native Features:
Enhanced media handling.
No limits on media size capture and upload.
Access to native camera functionality (editing, cropping, rotating).
Validate device location at defined intervals during active shifts.
Employees capture proof-of-work on their own devices.
Reporting is centralized an accessible on any device and location.
Progress is visible in real time and easily navigable on intuitive dashboards.
Integrated Workforce Management Tools:
Automated employee onboarding.
Automated payroll.
Compare execution performance to lookalike users.
Find the best-fit employees and keep them engaged.
Distribute and schedule jobs.
Filter staff by talent and availability, and more.
The Bottom Line
Improved communication between teams and corporate office. Real-time visibility into store activities and field team productivity visible to all levels of management. Easy job and task assignment, scheduling, billing and tracking. Mobile merchandising has become painless at last.
Visual Merchandising Displays
Nothing moves a product like a compelling, unique visual merchandising display, whether it comes from splashes of color, haute designs for luxurious tastes or ingenious attention-getters.
In this section of the guide, we'll explore visual merchandising displays and strategy and their place in the arc of product sales, including a special focus on:
Product placement marketing;
Next-Gen planograms;
Designing and managing retail product displays;
Exciting new retail display ideas;
The tools and processes that work;
Optimal shelving strategies; and
Boosting sales with retail signage.
These topics are designed to benefit the entire range of players that operate with one goal:
Fill that shopping cart!
So if you're designing your latest product, planning out your store's latest new retail execution strategy or plotting your next grand scheme to ignite the world with legendary (yet efficient) merchandising – we've got something to offer you, right here, right now.
We'll also sprinkle in a dash of psychological strategy, add a dollop of layout and store design, and create a sturdy base of practical tips, tools and insights along the way.
Get Started with a Quick Read: The Good, Bad and Ugly in Retail Product Displays
Product Placement Marketing
Brands, merchandisers and retailers put massive time, thought, energy and negotiation to ensure everyone benefits from their symbiotic – sometimes contentious – relationship with one another.
Meanwhile, customers are bombarded with options that can pull their attention from the delightful experience of seeing, feeling, touching the product in real life – a proven (and enjoyable) process that leads to a better bottom line for all involved.
Don't let the competition distract your market. Keep customers interacting with products, entering stores and filling baskets by getting your product placement fundamentals right.
Necessities: Whether a store focuses on specific categories of products or they run a one-stop shop for every need, carefully placed necessity items will draw shoppers to the areas where your highest-profit impulse items will jump into their baskets.
For instance, game stores can attract shoppers with essentials like controller batteries, cables and cleaning kits that emphasize an uninterrupted entertaining experience. Home improvement stores can keep a stock of high-replacement items like disposable gloves and masks. Home décor stores can stock well-placed consumables like air-freshener replacements, clean-up gear and Swiffer pads – people still love that handy little broom… Or is it a mop? Is it a duster? We don't know what a Swiffer is – but it's awesome.
Whatever you choose, the science behind layout mandates that you make these magnets visible from flow points and doorways, so that customers commit to a journey through your money-making impulse items as they meet their everyday needs.
Tip: Window signage product marketing that advertises discounts for these oft-replaced items will help get them in the door.
Impulse Buys: Visual product placement marketing allows some flexibility for impulse items, but it usually boils down to what kind of placement is possible – more than one company will be vying for certain spaces.
Since you're forced to rank your options, the counter and checkout zones are top priority, always. End caps along necessity zones or a spot along the main thoroughfare make a great second.
Sale Items: You can't go wrong with sale items that deliver high-volume profit. But which product placement will market them the most successfully? Forced pathway layouts will give an advantage if you take care to position displays that "bump" customers along their journey. Eye-catching visuals for your products will be more important than physically impeding their progress.
Execution Is Key: All of this planning won't mean much if your product placement marketing strategy never comes to life. Digital product marketing tools can help bring order to the chaos of product merchandising execution. How? Through visual confirmation on execution, easily managed merchandiser scheduling, and more. Read more about bringing order to the chaos of product marketing in our free guide.
Entryway Tip: One might think that the entrance area is a great spot for a fun grab, but experience tells us that the first 30 seconds or 10 steps through the door, upon entering, are more of an orientation and acclimatization zone: a great tip here is to ensure this area is inviting and has signage that encourages exploration or directs to a necessity.
The Advantages of Next-Gen Planograms
Have you ever wondered what it's like to build an engine from a schematic?
Better question: how do you think you'd fare building that beautiful back yard shed with only a blueprint to guide you?
In both of these scenarios, you're left holding the bag – literally – and have no guideposts to help you. With outdated strategies to instruct your merchandisers, these examples might just trigger annoying memories for field reps who used old-school planograms.
Worse still, these clunky old planograms jeopardize planogram compliance, turning execution into an all-or-nothing situation in the field.
Here's a few ways next-gen product merchandising planograms turn that antiquated process on its head. How?
Next-gen planograms isolate steps in execution and make them easy-to-follow, helping improve compliance, speed execution and break down the process into digestible chunks for hard-working field reps.
More Advantages for Retail Merchandising and Product Companies
The process starts with step-by-step, checkpoint-enabled instructions.
Employees or merchandisers then snap a photo to verify their work.
Photos are auto-tagged with time, date, location and more metadata to prevent gaming and falsification
Real-time verification and display status data is quickly searchable to keep a health check on all progress, deadlines, and inventory status.
The Natural Insight platform integrates this performance data with other data like attendance, check-in/check-out times, task completion, employee strength data and tagging, and more.
It's awesome. This is literally the science-fiction reality of product and retail merchandising.
Tip: Check out our blog post for more ideas on how to beat out competing retail displays.
Designing and Managing a Retail Product Display
What's the best way to design and manage a retail product display? Planning ahead and ensuring execution is flawless. Here we'll be exploring some principles of retail store display designs and the strategies that make them competitive and effective.
The Purpose of Eye-Opening Retail Product Displays
Retailers and the product companies all win when great displays work. When they don't work, however, the pain is felt on all sides. The first step to avoiding this fate and delivering a cash-box-brimming success is ensuring any display, be it storefront, free-standing or wall-mounted, is built with these three principles.
Entice: Turn heads and move feet (toward the store or the product).
Sell: Sell the product and/or increase sales on a steadily purchased product.
Leverage Space: Make the greatest use of space possible.
Design to Entice
Visual Research Advantage: Research by the University of Sydney noted that unexpected motion, changes in direction, visual jitter and changes in brightness all have a reliable effect on capturing attention. Here's a quick list of display features that make use of neurological attention:
Use reflective surfaces to create motion around the product.
Organize color and brightness in gradient fashion to trigger luminance awareness.
Try hologrammatic surfaces to trigger visual jitter cues.
For subtle color schemes, try layers with holes using a background with high brightness or intense darkness behind it. Also, a continuous pattern behind hole-punched surfaces will provide multiple visual effects that create motion and changes in direction.
Displays that Sell
Emotion and necessity are two of the driving factors behind sales in any display. We've covered a great deal on the aspects that turn heads from these angles, but what about a competition-based approach?
There's a way to make that happen. Start by gathering competitor information on displays and upkeep schedules to keep your own setups moving and get a solid idea of the replenishment regimes that work for each local area or store. Natural Insight empowers your field staff to do just that. Field reps can easily collect, report and monitor information that can help you make your own competition-informed strategic display choices. The platform helps you monitor:
Competitor pricing, pricing placements
Competitor hot sellers and items which never move
Display arrangements, designs and locations
Display takedowns and new build timing
Managing Displays and Maximizing Display Space
Retail display designs operate on some very straightforward principles. Generally, you'll want to always ensure customers can approach displays from every angle. That means that special attention needs to be paid to the proximity of nearby displays, walls and architecture – customers can't buy what they can't reach (let alone see).
Also, make sure that displays don't obstruct walkways to and from the main thoroughfares. It can be tempting to use a huge display along these routes, but customers are focused on their needs, not a single product. If you cut off the route to something they need along the flow pathways, they will not only be unable to touch, hold and inspect the product (critical to sales in many cases), they won't even come close enough to see the display, no matter how awesome it might be.
You can ensure that this doesn't happen with any size display by having field reps take photos or submit reports on the general floor layout. Also, with the right tool, they can easily ensure displays are up to date, well stocked and looking perfect with the right field quality control tools.